Christmas is less than a month away, which means whether you're in salon, in the sun or at a family gathering, the usual Christmas traditions that are noteworthy for any hairdresser, are starting to creep up. Whether you're mentally cursing the salon's requisite holiday cheer or silently judging your family's hair mishaps, Christmas is unique when celebrated as a hairdresser. Here are 12 things you're bound to experience this holiday season.
1. Silently judging your relatives' hair mistakes.
Can't. Look. Away.
2. But rejecting every offer to actually fix it (especially when they ask you to it for free).
Christmas Day, for you, is a hairdressing-free zone.
3. Knowing that bad hair is the true reason for Santa hats.
Relatives – we're looking at you… Cover it up.
4. Trying to hold in your rage when your relatives discuss their holiday plans.
5. And internally screaming when they ask what you're doing over the holidays.
"I'll be in the salon, same as every year."
6. Speaking of the salon… Starting to hate the festive cheer you're made to embody.
"What am I? One of Santa's elves?"
7. And indulging in one too many glasses of champagne with your clients.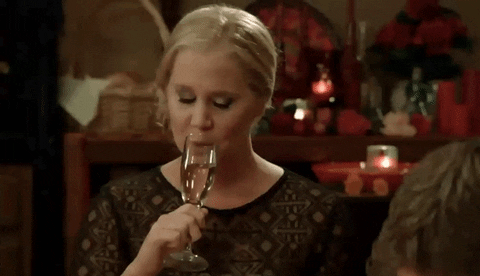 What are holidays for?
8. Crawling through what we like to call 'Hangover Season'.
The salon will not deter you from the party month of the year.
9. Being way too busy to shop for gifts any earlier than Christmas Eve.
Looks like Santa has shampoo in mind for everyone you know.
10. Appreciating that Christmas meal for all it's worth.
So much better than your regular salon lunch (which is usually just coffee).
11. Sneaking away from family engagements to enjoy some much needed time in the sun.
Your time out of the salon is limited and must be spent wisely.
12. But really just relishing the odd festive day off wherever you may be.
Happy holidays, hairdressers!
Click here for Styleicons|TV.