In some important global hair industry news, the finalists for the 2020 British Hairdressing Awards have been named. After already announcing the finalists for their pinnacle award, British Hairdresser of the Year, now all the finalists have been revealed, in a myriad of diverse and dynamic categories.
Judging took place in October, as the panel attended the process in controlled time slots, which allowed them to deliberate independently, wearing the relevant PPE, and within the generous space of ExCeL London.
Since 2019, the event has offered the bold International Hairdresser of the Year Award, last year won by Australia's own Jacky Chan. This year Jacky is again nominated with fellow Oscar Oscar colleague Nathan Armagnacq, while Judith McEwen from TONI&GUY in Perth Central is another Australian nominee. They will compete against finalists from Canada, Japan, Spain and the USA for the title. Congratulations to our Australian representatives and good luck!
Hairdressing Journal's British Hairdressing Awards are sponsored by Schwarzkopf Professional and will take place virtually on Monday November 30 2020. Tune in and take note of all the finalists below.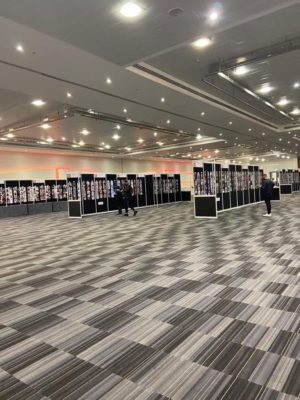 REGIONAL
Eastern
Paul Falltrick, GFC Hairdressing
Lisa Graham & Joseph I'Anson, Mark Leeson
Antonio Palladino, Antonio Giovanni Hairdressing
Callum Standen-May, STANDENMAY
Angelo Vallillo, DNA Art Space
Kai Wan, Pkai Hair
International
Nathan Armagnacq & Jacky Chan, Oscar Oscar Chadstone, Australia
Antoinette Beenders, Aveda, USA
Alexis Ferrer, Anna Ferrer, Spain
Shogo Ldeguchi, Fabric, Japan
Judith McEwen, TONI&GUY Perth Central, Australia
Alain Pereque, AP Education, Canada
Silas Tsang, Blushes, Canada
London
Jordanna Cobella, Cobella
Daniele De Angelis, TONI&GUY Shoreditch
Errol Douglas, Errol Douglas London
Danilo Giangreco, Danilo Hair Boutique
Anthony Grant, Linnaean Hair Salon
Andy Heasman, RUSH Hair Victoria
Midlands
Royston Blythe, Royston Blythe
Tracey Devine-Smith, French & Ivi
Stephanie Gamble & Ashley Gamble, Ashley Gamble Salon
Michelle Griffin, Griffins
Shaun Hall, Mark Leeson
Nick Malenko, Royston Blythe
North Eastern
Ross Charles, Ross Charles
Sophie Gibson, Hooker + Young
Rick Roberts, Rick Roberts
Michelle Rooney, Hooker + Young
Emma Simmons, Salon 54
Jonathan Turner, Hooker + Young
Northern Ireland
Julie Cherry, Shane Bennett Salon
Zara Colhoun, Stafford Hair
Julian Dalrymple, Sittingroom @ The Hub
Keith Kane, Keith Kane Hair International
Sharon Malcolm, Sharon Malcolm Hairdressing
Nicola Murray, Nicola Murray Hair
North Western
John Claxton, Claxton Hair Co.
Stephanie Darbyshire, TONI&GUY Deansgate
Laura Kulik & Ria Kulik, The Hairbank
Marcello Moccia & Karen Perry, Room 97 Creative
Gary Taylor, Edward & Co
Melenie Tudor, En Route
Scottish
Dylan Brittain, Rainbow Room International
David Corbett, David Corbett Hairdressing
Jason Hall, Jason Hall Hairdressing
Gary Hunter & Leslie Hunter, Frances Hunter Hairdressing
Kay McIntyre, McIntyres
Caroline Sanderson, Ego Hair Design
Southern
Seung-Ki Baek, RUSH Hair Epsom
David Baker & Ben Hendry, The Vault Hair & Spa
Thomas Hills, TH1 Hair
Altin Ismaili, Marc Antoni, Reading
Leonardo Rizzo, Sanrizz Guildford
Krysia West, Perfectly Posh Hair
Wales & South West
Craig Chapman, Craig Chapman Salon
Ijan Davies Emrus, Ocean Hairdressing
Josh Goldsworthy, Goldsworthys
Martene Mallett & Alison Adams, MODE
Ken Picton, Ken Picton Salon
Karoliina Saunders, Karoliina Saunders Hair Design
SPECIALIST
Afro
Lathaniel Chambers, Lathaniel Couture Hair and Beauty
Anthony Grant, Linnaean Hair Salon
Aycan Kemal, New York Hair Design
Rick Roberts, Rick Roberts
Caroline Sanderson, Ego Hair Design
Anne Veck, Anne Veck
Darren Webster, Electric Space
Artistic Team
MODE Artistic Team
RUSH Artistic Team
TONI&GUY Artistic Team
Essensuals Artistic Team
DNA Art Space Artistic Team
Hooker + Young Artistic Team
Avant Garde
Seung-Ki Baek, RUSH Hair Epsom
Emmanuel Esteban, Salon Sloane
Brooke Evans, Be Ironbridge
Sylvestre Finold, Metropolis Hairdressing
William Gray & Bianca Gray, Grays International
Robert Masciave, Metropolis Hairdressing
Anne Veck, Anne Veck
Schwarzkopf Professional British Colour Technician of the Year
Clayde Baumann, D&J Ambrose
Paul Dennison, Ken Picton Salon
James Earnshaw, Hazel & Haydn
Suzanne McGill & Dylan Brittain, Rainbow Room International
Jo O'Neill, TONI&GUY Sloane Square
Chris Williams, RUSH Hair Chichester
Gary Hooker & Michael Young, Hooker + Young
Men's
Craig Chapman, Craig Chapman Salon
Charlie Cullen, Joe & Co
Tracey Devine-Smith, French & Ivi
Andrea Giles & Terri Kay, Mark Leeson
Jason Hall, Jason Hall Hairdressing
Christian Wiles, Christian Wiles Hairdressing
Newcomer
Alessandro Barca, TONI&GUY Canary Wharf
Molly Drummond, Hooker + Young
Kate Drury, MODE
Sam Elliot, TONI&GUY, Covent Garden
Tori Ellis, KAM Hair and Body Spa
Lauren Killick, TH1 Hair
Trend Image
Sarah Black
Martin Crean, MODE
Ashley Gamble, Ashley Gamble Salon
Steven Goldsworthy, Goldsworthys
Sharon Malcolm, Sharon Malcolm Hairdressing
Darrel Starkey-Gettings, Taylors Hair Studio