We like to make a habit of celebrating Queen Bey's birthday (and considering she is a queen, we're kind of wondering where our public holiday is?) and while last year we took stock of Bey's best ever hair looks, this year we're taking a look at the hair in her biggest creation of 2016 (and probably ever) – her one-hour visual masterpiece, Lemonade. As the daughter of a hairdresser, whose music has always incorporated a beauty and fashion element, hair has grown into a significant feature of Bey's art.
When Lemonade burst onto the scene months ago, the most iconic line centred around Becky and her good hair, but it was really the hair of Beyoncé and her cast that told the story. Everything in the hour-long visual album, from the lyrics, fashion, choreography, poetry and, yes, hair, is an important facet of the film, a way to express themes of feminism, racial oppression, infidelity and empowerment. At last week's VMAs the visual album won eight awards, including Video of the Year for 'Formation', and Breakthrough Long Form Video – a stat that surprised nobody at all.
In addition to her myriad of talked-about fashion looks in the visual album, Beyoncé also wore hair looks that were variously impactful, significant and just plain cool. Here are 10 of our favourite looks.
1. The iconic cover image is telling in that it shows nothing but Bey's cornrows and one fur-coated arm. Cornrows, as you probably well know, are intrinsically tied to black culture (and many celebrities and fashion houses have been under fire for appropriating them for white culture in recent times). Bey expresses the film's powerful racial themes without even lifting her head – we told you hair was important!
2. Moving on to the film itself, Beyoncé's choice to pull back her hair and cover it with a hoodie may seem insignificant, but is actually rooted in political history. After the death of Trayvon Martin, Black Lives Matter advocates condemned the criminilisation of his clothing choices, saying he was killed for his choice of hooded sweatshirt and colour of his skin. Given that Beyoncé gives voice to the movement throughout the film (the mothers of black men who have been shot by police and authority figures – including Trayvon Martin's mother Sybrina Fulton – even make an appearance) we would say this was another purposeful hair choice.
3. For 'Hold Up', Beyoncé's tight curls adorn her now-iconic yellow Robert Cavalli dress, and reappear again throughout the film as an almost-signature style for Bey. Witness them again from river banks to football fields as the film goes on.
4. Another trademark look for Bey in the film is the aforementioned cornrows, which she translates from the cover artwork to the screen itself and wears to below the waist – continuing the look's compelling statement from the opening cover image, to the ultra-Gangsta 'Don't Hurt Yourself' track and all the way to the film's finale video 'Formation'.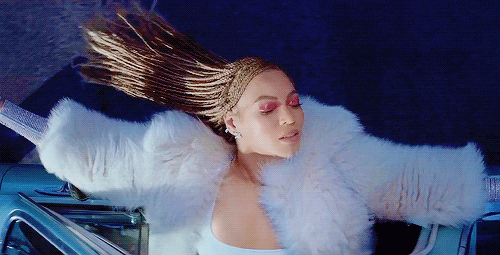 5. A subsequent style that reoccurs in the film is these long dual-braids, worn in a myriad of contexts, as Bey seamlessly travels through eras and locations, giving the film a timeless feel, anchored by modern fashion and hair.
6. More tribal elements are also evident throughout the film, with tribal face paint, references to voodoo practices and this simple looped pigtail look that merges these African elements with Bey's fashion-forward sensibilities.
7. It's again telling that one of the most fascinating hair looks in the whole film is used when Beyoncé utters her "Becky with the good hair" line during 'Sorry'. While referring to modern infidelity and real-world relationship issues, Bey heightens these themes to more pious matters, harking back to Ancient Egypt, with a 'Nefertiti crown' look built by hairdresser Kim Kimble, who reportedly utilised a milliner's cap and braided around it to make this unique shape.
8. Travelling to the Deep South, which is both rooted in a history of slavery and racial oppression, and acts as the backdrop of Bey's childhood, Beyoncé sports a fake bob and modern Gucci tuxedo as she calmly burns this history and her past to the ground. Getting a haircut as a post-breakup ritual is a tried and tested method of renewal, and Bey's fake short crop leads onto the second half of the film, and its themes of growth and forgiveness.
9. With her theatrical fashion choices and bold hair and makeup looks (such as this old-school pinned back look for 'Daddy Lessons') paired with intimate, vulnerable lyrics, Bey blurs the lines between fact and fiction, leaving listeners confused about just how mad we should be at Jay Z. Bey uses fashion, hair, makeup and set pieces to jump effortlessly between scenes that seem like a window into her real life, and others that make it feel like she's putting on a show.
10. In Lemonade Bey speaks on behalf of black women everywhere, and recruits a good number of them to actually appear in the film, from bereaved mothers to rising stars, each who represent a different piece of the black female experience. In this image, cast members such as Zendaya, Amandala Stenberg, Chloe and Halle Bailey and Bey herself rep afros, braids, curls and various hair looks significant to black culture.
Nothing in Lemonade is by accident – Bey uses music, fashion and hair as art, to travel through time, tell personal stories and make bold statements about black female culture. In a word – she slays.
Click here for Styleicons|TV.