Presenting Fray – a collection you may or may not have seen in extra-large on screen at the Australian Hair Fashion Awards (AHFAs) as Boris the Cuttery's Damien Rinaldo was called down to receive the Australian Hairdresser of the Year award on Sunday night.
Touted as the continuation of Damien's Bobohizian collection (which won him the same esteemed award in 2015), the collection is centred on questions of beauty, normalcy and authenticity – namely the query 'what is really beautiful'?
"How can we have equality when we still treat people differently for how they look? I think we are losing the ability to respect the differences in each other," Damien said. "[Model] Celia is smart, beautiful and friendly but the kind of model who is never afraid to look different. Her bias towards the alternative made her the muse for this collection. This enabled me to ask the audience 'What's so shocking? Why isn't this beautiful to you?'"
Angular textures in the hair, styles that defy gravity entirely, long and short techniques in one look, punk elements and an overall gothic aesthetic permeate the collection.
"They are beautiful, unconventional maybe, but definitely beautiful," he said. "I like it when people come up to me after seeing one of my collections and say that they can see the beauty in it, as different as it is."
Congratulations to Damien for bringing this perspective to the forefront – and for being rewarded for his alternative point of view.
Credits:
Hair: Damien Rinaldo
Salon: Boris the Cuttery, Adelaide, South Australia @boristhecuttery
Photography: Andrew O'Toole
Make Up Artist: Kylie O'Toole
Styling: Leticia Dare
For more information visit boristhecuttery.com.au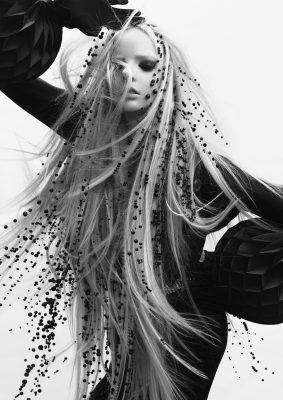 Click here for Styleicons|TV.