In a unique fashion-event unlike anything you're bound to have seen before, David Jones Spring Summer 17 hosted VIP guests for an elaborate, luxury meal, and the runway show was the centre piece. The stage was set firmly on the long, winding tables, and models paraded the scene from above in between bites. As luxury brands and fashion/beauty stalwarts tend to stick together, it was Aveda and MAC Cosmetics that brought the hair and makeup looks to life backstage, providing the trending beauty aesthetic to complement what's to come for fashion this season, all united by the theme 'everything under the sun'.
Led by ambassadors Jessinta Franklin and Jessica Gomes, with special appearances by supermodels Shanina Sheike, fiancé DJ Ruckus and Bridget Malcolm and punctuated by live musical performances, the David Jones show lived up to its reputation as an industry event like no other. Over 200 garments made their way down the runway, with designers such as Camilla & Marc, KitX, Dion Lee, Ellery, Bianca Spender, Alice McCall, Christopher Esber, Aje, By Johnny, Stella McCartney, Carla Zampatti, Scanlan Theodore and Manning Cartell leading the charge, showing off evening wear, swim wear, men's clothes and commercial fashion sure to dominate the trends over the next few months. Bold reds, tropical prints, lace, high necklines and soft pinks and blues dominated the show aesthetic.
The hair look by Aveda and Creative Director Terri Robertson-Kirkwood complemented this wealth of design by prizing each model's individual hair look and hero'ing texture as the major facet of the look.
"There's 37 looks, the brief from [stylist] Thelma McQuillen said 'I want you to treat every individual as an individual', there will be a common thread, but every single girl has been assessed and it's a version of it for her," Terri said. "This season is all about embracing your natural, we're just making it the best version of it that it can be. It's healthy, shiny and effortless."
Girls with curly hair were left to enjoy their usual, wild texture, made luxurious through the Aveda suite of products, while girls with straight hair saw their hair tied up into unique and individualised knots. Dry Shampoo for models with fine hair, Smooth Infusion for the ends of the hair and Sun Veil as an all-purpose hero product ensured the looks starred on the runway.
"The common thread is the texture, nearly everybody has a matte sheen texture, it's all about really good, well-conditioned beautiful hair, that is allowed to just be," she said.
The makeup look from MAC Cosmetics and Senior Artist Nicole Thompson had two separate looks focusing on lips and eyes respectively. Bronzed skin, fresh complexions and brushed out brows complemented both classic looks, each of which were perfectly suited to so many different models and designs.
"Red is classic and there's so much red in fashion at the moment," Nicole said the bold red lip look. "It's the perfect accessory always; everything takes a back seat to the lip." The bright lip was crafted with a matte finish, thanks to Retro Matte Liquid Lips, purposefully painted on slightly off tone to the fashion reds seen in the show. Interestingly the same range of lipsticks was utilised for the Ginger-Nut smokey eye look, blending ginger and ochre and painting the lip products from eyelids to brows for a strong statement eye ideal for the upcoming season.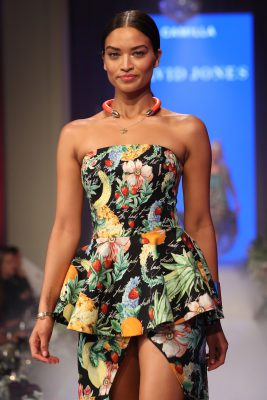 VIP guests such as Montana Cox, Teresa Palmer, Adam Goodes, Matthew Johnson, Tim Robards and Anna Heinrich, as well as the list of designers who all walked the red carpet, feasted on an inimitable menu designed by Neil Perry – think, oysters, lobster, dumplings, spring rolls and even chicken wings. After the show, the room was transformed into the after party, with tunes by DJ Ruckus and the compulsory dessert offering.
Even with a mouth-watering menu, the David Jones Spring Summer show remained first and foremost about the fashion and the beauty choices that take those designs to the next level. In an all-new format unlike anything else, guests could look up between mouthfuls and gaze right at the future of fashion, at least for the next two seasons. What better way to enjoy a meal?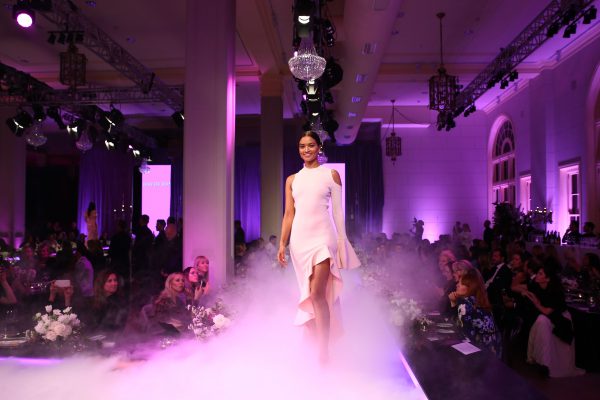 For more information visit aveda.com.au
Click here for Styleicons|TV.