Blonde specialist salon BLONDEE is enjoying a double celebration, as it marks one year of luxury, blonde focused operations and an expansion to its salon space. The Brisbane salon is adding to its space due to high client demand, emerging client needs in the current landscape and business achievement, even within the confines of 2020.
"I am so thrilled to unveil our new extended salon space today as we celebrate one year in business – and what a year is has been," said Founder and Director of BLONDEE Faith Williams. "Not long after opening BLONDEE, the COVID-19 pandemic hit and brought a number of challenges, as it did for many businesses. Thanks to all of our loyal clients and my amazing team, we have certainly come out the other side and we feel so grateful. We're so excited for the next chapter!"
BLONDEE has grown in its first year from zero to nine employees and over 400 people on a waitlist, necessitating the expansion. The salon is taking over additional space behind the salon, extending with a slightly different look due to COVID-related needs and changes in lifestyle.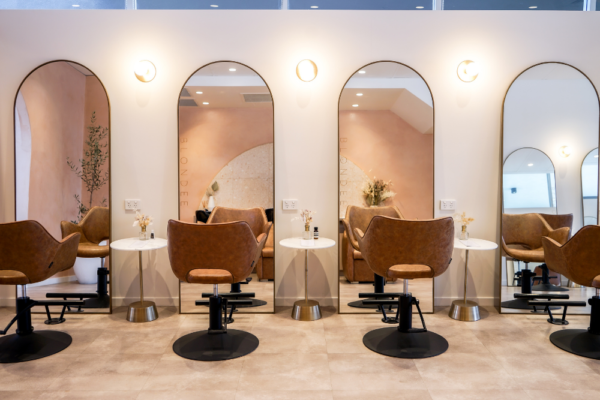 "When I was first opened BLONDEE, I really wanted to create a boutique space that looked different to the traditional salon. Pinterest was my best friend when I was coming up with designs! I sought lighter neutral tones with an earthy feel to suit the theme of a blonde specialist salon. The salon has such a nice warm feeling when you enter with beautiful arches, earthy tones, olive tree, and oak features. I would say it has a slight Mediterranean feel to it," Faith said.
"So many people have been working from home which means they are much more flexible and want to come in during work hours and continue to work from the salon whilst getting their hair done," she continued about the expansion. "Let's face it, coming to the salon takes a huge chunk of your day away from you especially in a salon like BLONDEE where we are doing detailed work with blonde hair and intricate techniques and creating such huge transformations. We have had so many clients working away with MacBooks on their laps and jumping on and off conference calls this year."
The new space accommodates these needs by acting as a private haven, allowing clients to work, take phone calls and be comfortable the whole time. Features include new ergonomic chairs and a long oval-shaped oak table equipped with workspace needs including power points and phone charger points. The space has been extended 30 square metres, now totalling 100 square metres, offering a brighter, lighter space built from glass windows and floor to ceiling glass doors, creating a haven that clients can settle in to all day.
"Some of our clients have seen bits and pieces of the salon extension along the way as we've been working hard to bring it to life. We've already had so many people asking if they can bring their chairs from the front out to the back table so they can work away whilst enjoying an epic cheese board, a wine, pink gin or their drink of choice from our delicious drinks and treats menu! So, it looks like it will really take off having this new space," Faith said.
Congratulations to BLONDEE on the new venture!
For more information visit www.blondee.com.au