This year Kérastase Paris has hit a milestone, celebrating 50 years as the world's biggest luxury haircare brand. At an event held at the elaborate Anana's Restaurant at The Rocks in Sydney, the hair and beauty industry's elite attended a decadent celebration of 50 years of style.
Sarah Laidlaw and Ludovic Delazzeri cutting the croquembouche
To introduce the evening, National Fashion Editor for Fairfax Media and publisher of lifestyled.com.au, Paula Joye welcomed guests and reminisced about her first beauty assignment where she was asked to write a feature about the Kérastase Bain Après Soleil sun protection range.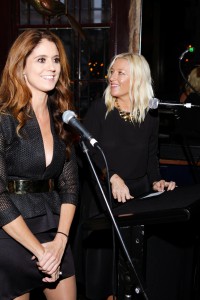 Sarah Laidlaw and Paula Joye
She introduced General Manager for Kérastase Paris, Ludovic Delazzeri who spoke about the brands' evolution over the last 50 years and that there is much "more to come" in the future for Kérastase. In keeping to the theme of celebrating 50 years, Kérastase Paris Creative Stylist and spokesperson for the Kérastase Couture Styling collection, Sarah Laidlaw presented six models – five of which demonstrated iconic hair styles from the last five decades including a classic 70s straight style and 90s crop, and one to represent a style that Kérastase foresees for the future of hair styling.
After the presentation, Ludovic and Sarah cut the towering croquembouche that featured in the centre of the venue, before guests were treated to a performance by Australian recording artist Megan Washington.
Megan Washington performing live at the Kérastase 50 Years celebration
The celebration was elegant, classy and refined, and encapsulated Kérastase's 50 years of style perfectly. From an exquisite brand like Kérastase, we would expect no less.
For more information about Kérastase Paris visit www.kerastase.com.au.
Click here for Styleicons|TV.