Two education giants are teaming up, with Pivot Point Australia and Chisholm Institute today announcing a long term licensing agreement whereby Chisholm will assume operating Pivot Point's Melbourne CBD Academy from January next year.
"This business arrangement was born through a conversation about how we can strengthen the hairdressing training market today and in to the future," Pivot Point Australia CEO Rob Aubin shared. "It enables Pivot Point Academy to continue its benchmark training with the significant resources and quality background that Chisholm Institute offers. Pivot Point Australia will work closely with Chisholm to foster innovation in the hairdressing training space."
Under the agreement, Chisholm Institute will take over as the Registered Training Organisation for Pivot Point Academy from Pivot Point Australia (Allied Educational Services Pty Ltd). Meanwhile, Pivot Point will continue its business development and educational resource distribution within the hair and beauty industry.
"Chisholm is delighted that such an iconic hairdressing education provider has joined its ranks," said Maria Peters, CEO at Chisholm. "Pivot Point Academy has an excellent reputation in the industry for producing disciplined and talented hairdressers. It will complement Chisholm's strong standing in the hair and beauty industry. We are committed to working closely with industry and salon owners to be the hairdressing educator of choice and to meet industry needs."
Chisholm will invest in Pivot Point Academy's staff and students, as well as refurbishing the facility to support continued growth to the education agenda. Ruth Browne, Manager for Hair, Beauty and Wellness, will continue her association with Pivot Point by leading the Academy.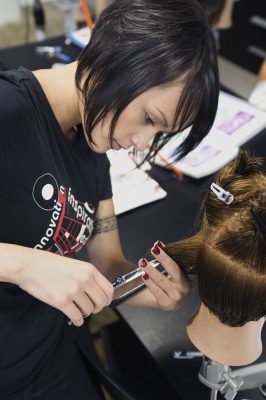 "Salon owners face many hurdles in attaining staff in today's business climate, with the support of Chisholm's network we have the opportunity to work closely with salon owners to be the hairdressing educator of choice in the industry and meet their needs," Ruth said.
Chisholm delivers a broad range of services in higher education, Vocational Education and Training (VET) and school sectors across a multitude of campuses, online, in the workplace and with partners overseas. Last year it was awarded The Victorian and Australian Large Training Provider of the Year.
The company has been delivering hairdressing training programs using the Pivot Point method for over 8 years, capitalising on Pivot Point's premium content as the most highly regarded hairdressing training organisation in the southern hemisphere, for which it has won hundreds of awards over its 25 year tenure.
For more information visit chisholm.edu.au or www.pivot-point.edu.au
Click here for Styleicons|TV.