It may have taken a year and a half of re-scheduling and agile planning for L'Oréal Professional Products Division to pull off a face to face business forum combining Kérastase, Redken and L'Oréal Professionnel salons from across the country, but the show went on from June 6 to 9. 170 people celebrating togetherness in sunny and warm Port Douglas was the perfect backdrop for the deep breath in business we all needed, writes Cameron Pine.
It's almost overwhelming to describe the energy and emotion in a room of 170 people that have wanted nothing but to get away and enjoy each other's company after perhaps one of the most challenging few years in business. Just when we thought the schedule was final, there were changes right up until the last minute and a Melbourne lockdown prevented staff from head office from attending, L'Oréal kept strong with an eye to the future by adapting speakers last minute and more than 100 additional people joining the conference via a live stream.
Most of all though, the immaculately kept tropical surrounds of the Sheraton, including the lagoon pool and ideal temperatures, meant the conference had just the right amount of escapism for everyone to enjoy – proving that learning in a laid-back environment is among some of the most valuable lessons of all.
"I couldn't be more proud of how L'Oréal and the industry responded with such resilience and agility. It's the first pandemic I've lived through and hopefully the last," said L'Oréal Professional Products Division General Manager, David Higgins. "It's very hard to see so many more of you in Port Douglas and we're sorry we can't be there – be patient with us – it's been 18 months of planning and rescheduling."
The show went on and the sense of community within the selection of brands was in fact a first in itself and one of complete cross-brand empathy. Off the back of the annually tried and tested and highly successful Kérastase Business Forum format, by adding more brands it increased the energy and dynamism with an ability to share and learn from each other in a never seen before opportunity.
While it feels like we've moved a few years in just months since COVID changed the landscape of how we do business, for Melbourne staff it was almost surreal to be holding a face to face event with so many people all in one room. Following the enormous challenge Victoria as a state has faced, one thing was certain, and that was that more than ever the industry was craving connection. Hats off to L'Oréal for creating a platform that enabled the true value of face-to-face sharing of ideas.
"There's a change in what customers expect from us as a service provider and we are here to stretch your thoughts and imagination," David said.
Independently, the Professional Products Division commissioned a research company to pull together the changing expectations and needs of the consumer in salons in Australia. By researching a large number of consumers and general consumers in the market, L'Oréal is doing everything they can to be a stronger partner and make sure the business is future proof.
At large, L'Oréal is leveraging its rich 110+ year history to create a vision of what the industry will look like come the year 2030. There were four key touchpoints throughout the program where the emphasis encompassed recruitment, consumer trends, digital advancements, and sustainability – key factors that heavily affect all salons, especially now.
The brand also stuck to an overall mantra to communicate their global sense of purpose, affirming their goal to 'Create the Beauty that Moves the World', the mission of offering all people worldwide the best of cosmetics innovation in terms of quality, efficacy and safety.
The empowering video that kicked off conference, set the theme and tone for the ensuing days, showcasing the L'Oréal 'for the future' mission but with a strong connection to the highly important role of the professional hairdresser – something we continue to remember every time we come together backed by such a global leader in beauty.
"Our event is really about the salon of the future so we are brand agnostic. We are here to provide you with a vision of what the future might look like. You might be inspired or might make you feel a little uncomfortable," said L'Oréal Professionnel Sales Director, Lara Woolley.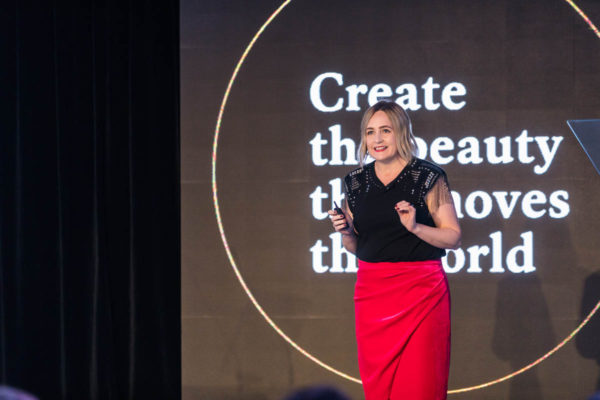 Todd Sampson taught guests how they can re train their brain for success despite the fact that modern science tells us we are in steady decline from 50 onwards.
This old scientific ideal is no longer true," Todd said. "There is one thing machines will never do better than us, and that's mental flexibility. We are born with incredible flexibility, but we don't use it – the brain will always find the path of least effort." It's no wonder Todd has climbed the top of Mount Everest unguided.
Sandy Chong gave invaluable insight on 'the state of the industry' – helping to shift our mindset around staff and what the Australian Hairdressing Council (AHC) are doing to help improve the state of our industry.
"All I hear is whinging, moaning and complaining about our industry, and I want you to be open minded about what you take home today. Many of us only hear what we want to hear," Sandy said.
With 20,000 hairdressers working from home, it's time to shift how we view this and what we can do to change our mindset – further reinforced by Sandy reminding us that the salon of the future needs to be a very different salon.
Gerjit Ghuman Wright, L'Oréal National Sales Manager, spoke on behalf of Sylvia Stewart regarding key education and digital innovations while L'Oréal Professionnel General Manager Olga Zanetti also spoke via Zoom on key macro beauty trends for a true global awakening; all inclusive – diversity and connection, convenience, value sensitivity, health and wellness, and lastly trust and transparency. According to research a whopping 87 per cent of people will pay a premium if it helps the environment.
Jordana Borensztajn gave her insights as a social media strategist with an up to the minute and up-beat method of attacking social.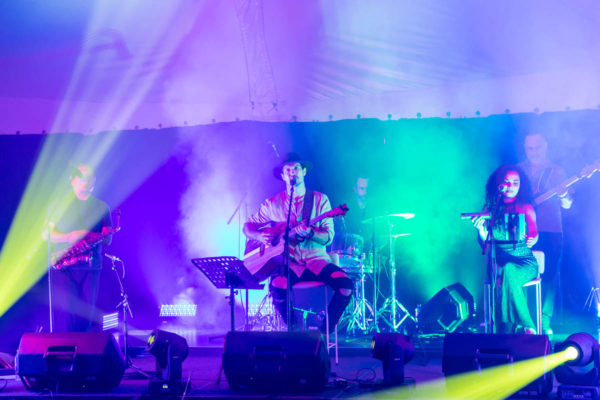 "The ROI of social media is that your business will still exist in five year's time," she said. "Your voice of social media must be super relatable and based on what will make it memorable and stand out. We also need to look at how we use cliches for content and how we can chime into global discussions but most importantly focus on content that we love to create."
Sustainability came to the fore with Christine Burke, L'Oréal Corporate Communications Manager.
"Our slogan 'create the beauty that moves the world' is here because it's about creating L'Oréal as a leader and not a follower. Our tech and digital journey is also a green journey – sustainability is our highest priority of the group but that's the people journey as well," Christine said.
Products are going to become harder to produce, with a water scarcity and L'Oréal has developed a device called Giosa – to save water usage in salons by 75 per cent.
Eliane Miles talked us through top trends that are transforming Australia and the realities that will impact your business. Gen Y is now half our workforce and Gen Z is two thirds.
''For young people these days it is much more about the values, social security and trust than the pay alone," she said. Eliane shared practical insights that move teams towards a stronger culture while giving a full 360 degree view of what drives consumers and generational transitions.
Darren Hill is the Co-Founder and Executive Director of Pragmatic Thinking – one of the fastest growing businesses in Australia around leadership, culture, behaviour and feedback, which provided invaluable expertise.
"Chances are you'll spend a fair chunk or your life at work, it makes perfect sense to make it the best possible experience it can be, right? Working on being a better human never fails," he said.
Kérastase guests were privy to some additional content exclusively for them, teaching them how to operate better in such a disruptive period of change through both online and offline transformation. They shared with guests the brand vision up until 2030 with a sneak peek into innovations that inspire, beyond just product.
"We are proud to say we are the number one haircare brand in Australia with nearly 20 per cent total professional market share but also L'Oréal's fastest growing brand globally," said National Sales Manager, Gerjit Ghuman Wright. "It's no surprise that with everything we have discussed over the past few days that Kérastase will lead the retail renaissance."
From growing the consumer base and not distribution, Kérastase are focusing on pushing consumers back to salons to indulge in the ultimate ritual experiences to build client loyalty.
To increase this awareness and innovate, the brand is focusing on sampling, social and digital campaigns – with a target of 50 per cent of Kérastase consumers being trialled by 2030.
"It might be controversial but for longevity both online and offline needs to coexist. 79 per cent of small business prefers selling through social media," said Gerjit.
Attendees also heard from Oscar Trimboli who is on a quest to create 100 million deep listeners worldwide. He works with organisations, CEOs and transformational leaders as to why they must listen beyond the words, not just in workplaces, but in homes and across the world. Oscar will force you to question how you 'actively listen'.
Alyce Tran is the Co-Founder and Creative Director of The Daily Edited and In the Roundhouse. She explained how her story of TDE started as a passion project on the side of being a lawyer back in 2014 – a brand that now has stores in Australia and the US. She has moved on to create popular tabletop homewares brand, In the Roundhouse.
One of the most exciting innovations presented to all guests at conference came in the first delivery of L'Oréal Professionnel's Metal Detox product range – a completely universal in-salon system to strip hair of metal build up that cause colour irregularities and inconsistencies in hair. This completely game changing product is available from September and can be used with any colour brand. Taking 7 years to produce and with 9 patents – this product includes a home care regime and will further form the reinvention of Serie Expert.
Ultimately, the Forum reminded everyone that we all have the same goals – to grow, evolve and support each other to create a better industry. Even if just one thing is taken away by each guest, the conversations in such an open-minded environment was where the true potential was.
Between shifting thinking and adequate drinking, Port Douglas was the perfect environment to sharpen the senses and take a moment to breathe and re-focus after what has been a highly confusing time for everyone in business. With this essence so well captured by all the guest speakers who opened the minds of everyone in attendance, one thing was clear, and that was that for key L'Oréal salons, the advantages of Business Forum are a gift with many returns.