The lucky winner of the Dateline Imports Fiat 500 Gucci car competition was drawn on Tuesday 1st April at Dateline Imports' Sydney head office in Banksmeadow, writes Ruth Cooper.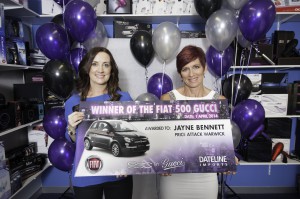 The competition, which had been running since November 1st 2013, gave Dateline Imports customers who spent $100 on selected brands the chance to win the extravagant prize, valued at $25,500.
Not just any car, the Gucci-designed Fiat 500 features the unmistakable Gucci red and green both inside and outside (Gucci seatbelts, anyone?) and, in traditional Italian fashion house style, is the height of luxury and elegance.
While Dateline said the response to the competition had been outstanding, there can only be one winner. The winner was drawn at random with INSTYLE National Advertising Manager Jo Cowan, acting as the independent witness. Congratulations to the winner – Jayne Bennet from Price Attack Warwick, Western Australia!
For more information about Dateline Imports contact (02) 9666 3611 or visit www.datelinecity.com.
Click here for Styleicons|TV.