Simone Lee's latest collection is steeped in culture, tradition and history – and it fittingly made history itself, earning the inaugural title of the Hair Expo Western Australian Hairdresser of the Year. The images portray the beauty of indigenous women, photographing Aboriginal models who live in Western Australia themselves.
"Not only did I set out to enhance the beauty of the models, but most importantly, build their confidence and give them exposure and opportunity," Simone said. "The winning photographic collection, called Genesis, was created with the aim on inspiring and empowering these women, as well as women globally."
Simone created the collection based on a culture already close to her heart, being a mentor of fashion consultancy for the Fashion Advocates' Aboriginal Girls Leadership Program. This experience led her to create the heroine warrior hair looks that define the collection, through styling, cut and braiding techniques.
Simone's editorial prowess is just one of her many talents – the WA hairdresser owns both Simone Lee Creative and Tyler Reid Hair salon in Perth, and is an experienced trichologist. She has a wealth of editorial experience on film sets, on TV and backstage for the runway, for example as a Hair Director for Redken at MBFWA 2015. Additionally, she creates hair tools and is a successful educator.
It is this incomparable experience, and the immensely powerful story behind her collection that awarded Simone the prestigious Western Australia state Hair Expo award for the first time in the event's history. See the collection in its entirety below.
PHOTO CREDITS
Collection: Genesis
Creative Design and Direction – Simone Lee Creative
Photography I Elsa Jean – Norvek Studios
Editing and Grading – Gillian and Peter Radford – Norvek Studios
Models – Aeisha Blurton, Narelle Robinson, Tianna Colbung, La-Toya Phillips, Nikeeta Robinson
Aboriginal liaison and stylisation co-ordinator – Cara Taylor
Hair – Simone Lee of Simone Lee Creative
Make Up – Nikki Burnell
For more information visit www.simoneleecreative.com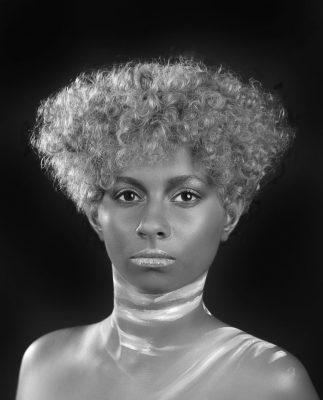 Click here for Styleicons|TV.