The Dyson Supersonic™ hair dryer Professional has had something of a makeover, with a new filter re-engineered to last six times longer before requiring cleaning, ideally meeting the needs of busy salons.
This allows the filters, which usually absorb everything from hairspray to dust, hair clippings and silicon, can last longer while still protecting the motor, helping everywhere from the salon floor to backstage and on set.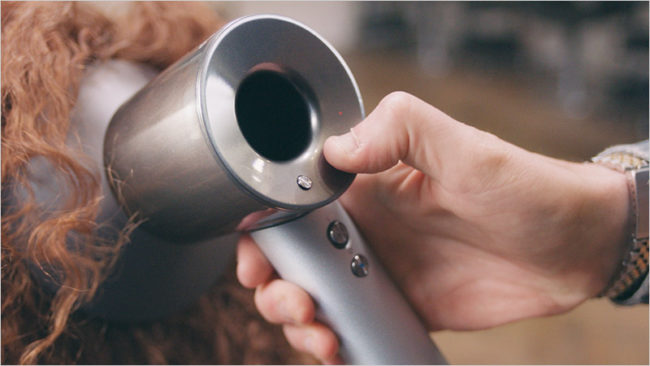 The savvy tool is powered by the brand's renowned digital motor V9, helping to prevent extreme heat damage, aid in fast drying and styling and protect shine. The tool is also engineered for balance, as the first dryer to be manufactured with the motor in the handle.

In addition, Dyson has also now added the Gentle air attachment to the box in both Australia and New Zealand, all of which is available from October, with exclusive discounts available to professional stylists on licence verification.
Beyond the Supersonic tool, the brand has also introduced two new attachments to the always-expanding world of the Dyson Airwrap™ styler, with new 20mm Barrels and a Small Round Volumising Brush. The attachments allow for more tailored style for various hair types, all of which is intelligently created by the tool and it's Coanda technology, as well as the iconic V9 motor. Using the tools, users can create curls, waves, straight styles and more at various levels of texture and volume.
The 20mm Barrels are designed with flow-vane geometry, to attract, wrap and curl hair using the Coanda effect. Longer and thinner than their 30mm counterparts, the new attachments are designed for tighter styles and enhanced curl retention for those with finer hair. The motor within the tool spins to create an area of high pressure at the top of the styling barrel, while a high velocity jet of air disperses out of six air slots around the barrel, which creates the Coanda effect.
The new Small Round Volumising Brush is ideal for very short hair and fringes, designed with a slim head and long, fine bristles to add volume and shape to shorter hair lengths. The 28mm Round Volumising Brush directs air into the hair to give it body, while the bristles create tension during styling, mimicking a professional blow-drying technique.
Beyond the myriad of dynamic attachments, the Airwrap™ styler itself boasts modern technology such as Intelligent Heat Control to measure and regulate heat, where it keeps temperature below 150°C to protect hair, remaining a consistently bold and top-tier tool.
The new attachments will be available in colours of black and purple, as well as iron and fuchsia as they launch through September to December. Moreover, from 10 November to 31 December, for a limited time only while stocks last, a Dyson designed travel pouch is available in black and fuchsia as a Gift With Purchase when purchasing the Dyson Airwrap™ styler from retailers or in black and purple online. The pouch is heat resistant, acting as a safe storage space and boasting three compartments for true style and functionality.
Dyson continues to innovate and build on its inimitable technology through 2020 and beyond. Get your hands on these new gadgets.
For more information visit www.dyson.com.au