Over 50 salons around Australia just spent one day proving the power of our industry when we truly come together, opening their doors and donating all the proceeds of their services that day to a truly worthy cause. The result was $57,457.60 donated to Hagar in this year's iteration of Style for Life Day, the annual collaboration between the charity and ELEVEN Australia that continues to use hairdressing to better the world.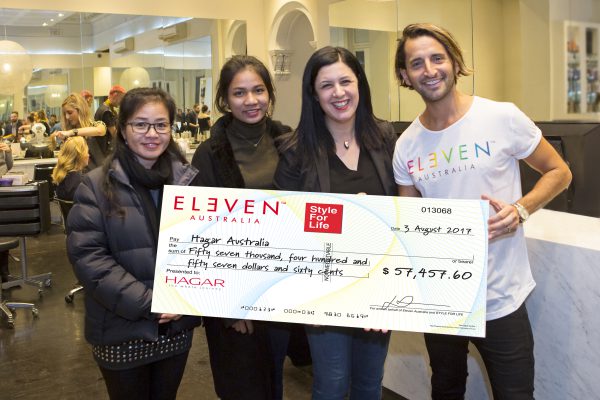 The day took place on July 30, with hairdressers racing to fit in as many clients as possible into their chairs. The event once again proved a major success in its fifth year, bringing the total donations raised to $218,000 since the event began in 2013. ELEVEN Australia also donated one dollar from every sale of its limited-edition Miracle Hair Treatment during June and July to the cause.
The money raised is used to support the fight against slavery, transforming the lives of women and children who have survived severe human rights abuse in Cambodia, Afghanistan and Vietnam. Initiatives that are funded through these donations include specialist trauma counselling, intensive education programs and career training opportunities. Women often learn skills such as hairdressing which affords them economic independence and as such as a second chance at life.
"It is only with the support of the public and our amazing salons that we are able to raise the incredible amounts that we do. Seeing the great work Hagar do makes me proud of our industry," shared Co-Creative Director of ELEVEN Australia, Joey Scandizzo, who has travelled to Cambodia to teach hairdressing as a skill to those in need.
Congratulations to every salon who donated their time and talents to this amazing cause.
For more information visit elevenaustralia.com.au
Click here for Styleicons|TV.