We love getting a glimpse into the minds of Australia's hairdressing talents, so we sat down with Lauren Cooper and Matthew Stadler, owners of Etcher Salon, Adelaide, to hear their thoughts on music tastes, go-to salon styles and where the industry is heading. Also, discover the vibe and aesthetic of their inimitable salon space.
How would you describe your salon's style aesthetic?
The salon is a modern contemporary style with lots of natural light and elements of terrazzo concrete, timber and pastel tones. When designing the salon, we wanted it to feel warm and inviting, like a big hug as you enter! We wanted each individual to feel like they are stepping into a safe space where they feel free to be their most authentic selves. The space is filled with lots of soft pastels, curves and plants, which gives the industrial warehouse canvas a softer feel. We also wanted to celebrate the creative industry in our state and had lots of key pieces created by local Adelaide talents.
Pick your poison?
Matthew: Pet Nat Wines
Lauren: Rosé or Gin Your favourite Instagram account?
Your favourite Instagram account?
Lauren: @maneaddicts and @themayfairgroup
Matthew: @mrbuckleyinteriors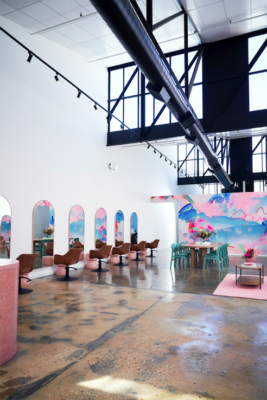 If you could have dinner with anyone in the world, who would it be and what would be on the menu?
Lauren: Oprah, and we would have Thai from my favourite Adelaide restaurant Golden Boy.
Matthew: Action Bronson, we would eat some kind of crazy fried chicken and wine.
An item in your wardrobe that makes you feel the most 'you'?
Lauren: Anything denim or a vintage band tee.
Matthew: Black jeans, a hat.
A song that will get you dancing without fail?
Matthew: Pet Nat Wines
Lauren: Rosé or Gin
What is your favourite cut and/or colour to create in the salon?
Lauren: I do a lot of different work in the salon – from balayage and blondes to vivid colours and creative cuts. I love mixing it up and not doing the same thing all day long. I always like having something different to offer my clients, whether that be a slight change in tone or a new curtain fringe. It's fun to mix it up and constantly learn new things. At the moment, I love shag textures and mullet cuts.
What would you like to see more of in the hair industry in the future?
We would love to see curl and texture education included in trade school curriculums. We hosted a curl and texture event at the salon last year in collaboration with Evo, and the huge amount of interest we had confirms that the industry has a lot of growth and development to do in that area.
A quote to live by?
Whatever you put out into the world always comes back to you.
For more information visit www.etcher.com.au