We sat down with Maria Unali, the owner and director of Salon Kiin and Salon Kaia to discuss these flourishing salon businesses, her hairdressing background, points of inspiration and the future of the industry.
How would you describe your salons' style aesthetic?
Kiin is a little younger. Less polished, more textured. We're known for our signature waves. Kaia is fresh, more natural, and less styled than Kiin. Think "just came from the beach" but intentional.
What inspired you to become a hairdresser?
To be honest, I just wanted to stop studying, get out of university and start making some money. My dad had a salon, and I'd been there since I was 14. It wasn't until I was turning the pages of iconic hair magazines in the back room that I saw the potential of this industry. I remember seeing Anthony Nader's Hairdresser of the Year Collection and thinking, 'that's what I want to do!'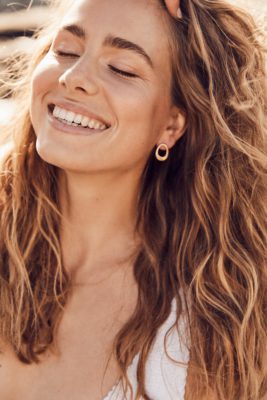 Pick your poison?
Chilli margaritas. Always.
Your favourite Instagram account?
If you could have dinner with anyone in the world, who would it be and what would be on the menu?
Dan Levy from Schitt's Creek. Call me cliché, but traditional Italian with Negronis.
An item in your wardrobe that makes you feel the most 'you'?
Right now? Probably my Matteau tiered low back sundress.
A song that will get you dancing without fail?
Anything Jamiroquai.
What is your favourite cut and/or colour to create in the salon?
Chin scraping bob with internal texture.
What would you like to see more of in the hair industry in the future?
Purpose over profit and education around mental health, self-knowledge, resilience and confidence. It's something my friend, Jack Morton, is doing at the moment. There's a massive gap, and as salon owners, we need to get behind it if we want to build more trusting high performing teams.
A quote to live by?
"We can do hard things" ⁃ Glennon Doyle