Welcome helios, ghd's latest hair drying technology for a better styling experience and smoother, shinier hair, using the scientific research and development worthy of tech in 2020.
Professional styling has a new go-to tool in the new decade, with ghd's helios hairdryer building on their legacy of innovation in styling tools. Last year's glide hotbrush was the latest internet breaking sensation; now ghd helios is heating up the industry once again.
Developed by ghd's leading UK Research and Development lab in Cambridge in conjunction with top physicists, engineers and styling professionals, the ghd helios hairdryer boasts a range of features that gives stylists a high-performing dryer, showcased in ghd's signature seductive product design.
"The ghd helios is the result of listening to what our professional stylists and consumers want and developing a technology which meets those desires and takes the styling experience to a whole new level," said Ludovic Dellazzeri, managing director of ghd anz. "We could see there was a need for a hairdryer which is both lighter and faster but doesn't compromise on hair health. Our new ghd helios not only delivers ultra-powerful speed drying and a lighter styling experience, it also leaves the hair smoother and shinier and eliminates frizz and fly-aways."
Helios is ergonomically balanced for optimal weight distribution, becoming the professional hairdresser's new best friend. Don't let the weight fool you; this hairdryer packs a punch, boasting a light-weight 2200 Watt brushless motor delivering a highly concentrated airflow travelling at 120km, for ultra-powerful and efficient drying.
Breakthrough Aeroprecis™ technology adds to this by enabling more precise styling control, smoother results and 30 per cent more shine. The technology encompasses a patented grill design which allows maximum air intake for a powerful result. The internal impellers reduce air turbulence and sound levels, and the stator vanes concentrate the airflow for speed drying. The contoured nozzle of the dryer delivers even heat across the entire width for control and precision.
"Hairdryers are not only imperative to everyday salon use, they're also the most commonly used hot tool by Australian women as well.  Research shows that consumers want a hairdryer which is lighter, faster, and fights frizz – but it also shows that 56 per cent of Australian women don't know how to properly blow-dry their hair and simply resort to blast drying," said Grant Norton, national education manager, ghd anz. "Our Aeroprecis™ technology means not only will stylists get better results than ever before, but your less-skilled clients will also have better styling control, giving them better results at home too."
Other significant features of the tool include advanced ionic technology for reduced frizz, bespoke acoustic system technology that ensures low sound levels, and a cool shot button to fix hair in place.
"The ghd helios hairdryer gives you the perfect flow of air when drying to create a natural fullness, stunning shine and smoothness like no other," explained Zoe Irwin, ghd UK ambassador. "It's my new kit bag essential as it's so fast and really minimises drying time, therefore limiting damage to hair."
Aesthetically, the helios comes in a range of four trending hues with modern metallic accents to brighten up your retail shelf. Choose between navy blue, plum, white or black to complement your own aesthetic style. The tool is also backed with a two year professional use warranty.
"ghd helios will be a game changer for professional stylists and consumers alike, transforming hairdryers from a commodity into an object of desire," said Ludovic. "Whatever your need, whether it's speed drying, a lighter blow-drying experience, or superior results and shinier, smoother hair, the ghd helios delivers."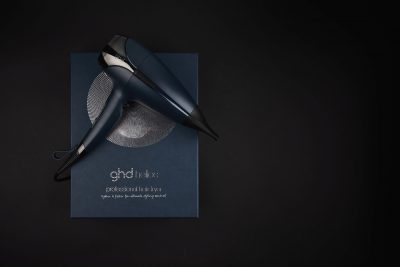 This stylish, savvy tool is your new salon assistant, retail hero and must-have partner tool all in one. ghd keeps kicking goals with helios.
For more information www.ghdhair.com/au