Led by acclaimed session stylist Carole Haddad, the three winning regional hairdressers of the Hair Shots 2 The World Star Spot Opportunities impressed in the Natural Fibres Parades at the Royal Brisbane Show, otherwise known as Ekka.
Lisa Mannion, Sophie Butson and Teagan Lindsey backstage
Sophie Butson of Jarahs Hair Loxton, Teagan Lindsey of Zen New Hair Direction Gerringong and Lisa Mannion of Pinned Up Hair Broken Hill were an integral part of the styling team for the many different fashion parades, where they learnt the tricks of the trade from Carole backstage.
"These hairdressers have formed a great team and learnt quickly," said Carole. "They are simply wonderful and even have gotten to the point where they know exactly what to do with only artistic direction from me. I am so proud of what they have achieved in a few short days and they are welcome back anytime."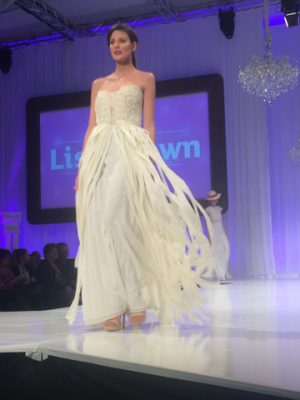 The three stylists impressed at the Royal Brisbane Show
The three stylists immensely enjoyed the experience, which was capped by a feast at the Brisbane Institution, dessert at Couch Dessert Cocktail Bar and a night time tour of Brisbane. The once in a lifetime opportunity allowed the stylists to see the frenetic pace of runway styling firsthand, learning important skills that they can now take back to their salons.
The experience was indicative of the Hair Shots 2 The World Star Spot Opportunities initiative, which aims to provide opportunities and traning to hairdressers who would not be able to find these experiences in their home towns or salons. The three regional winners have grabbed the opportunity with both hands, taking away lessons and memories that will have a profound impact on their styling careers.
For more information visit www.hairshots2theworld.com or call (03) 9583 2001
Click here for Styleicons|TV.