Two events were held in Sydney's glorious eastern suburbs last week to unveil the Myer SS 17 fashion show, writes Michelle Ruzzene.
The first event, held over lunch at a gorgeous private residence in Coogee, featured models walking in front of the picturesque and dramatic beach backdrop. The second event, held in the evening at Bronte Surf Live Saving Club, combined models and dancers wearing the clothes in a beach party setting, complete with slushees and foam topped hors d'oeuvres.
KEVIN.MURPHY hair directors James Nicholson and Nathan Gorman were on hand, leading the KEVIN.MURPHY team of stylists to create two different looks for each event.
The first hair look for the day was about luxury and featured a more polished style to sit alongside the refined designs. With a strong, deep part, hair was smoothed and moulded to the head above the cheek line, with a natural bounce at the ends creating a tight silhouette.
For the evening event, hair took on a cooler, more relaxed vibe.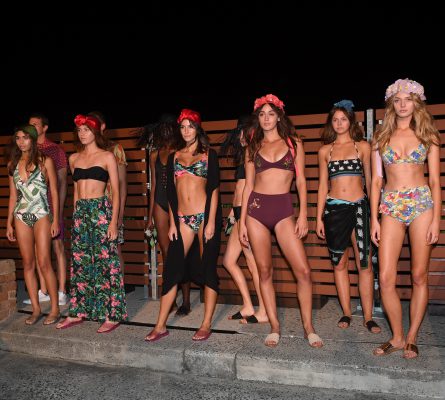 "Our hair direction was influenced by hero fashion moments of the 60s, 70s, 80s and 90s," James explained. "When we thought of a hair trend that flowed across all four decades, the fringe was it. We chose to hero the sexy, slightly awkward fringe to really showcase the fashion moments – think Goldie Hawn. These fringes are cut to hero cheekbones with a French and chic twist."
James said the biggest challenge was creating the fake fringes.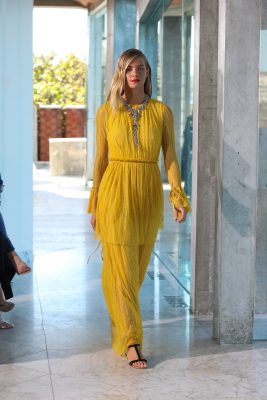 "Creating faux fringes are often a challenge, but so rewarding when it all comes together."
He credited Headlines Hairpieces range Wefts on the Run and Bedroom.Hair, a KEVIN.MURPHY product set for release in September, to creating the successful hairstyles on the night.
James said working on two Myer fashion events in one day "was ambitious and challenging, but what a payoff".
"Rock'n'roll, it all went to plan."
Lancôme created the makeup to match the eras on the night. National makeup director Lara Srokowski said her team wanted to "create really effortless skin", with a "glass lip".
"For the 70s and 90s we went for a really black lip look; it's a dark plum, almost black, but with a glass effect," she said. "To achieve the look we used waterproof brown eyeliner and we lined the whole lip, then we used Berry Nior lipstick for a plum tone, before coating it in a lip gloss with glitter in it o really achieve that glass lip."
Summer at its most sophisticated seems almost around the corner.
Get the look – Day Look:
1. Just like a skincare routine, a correctly diagnosed haircare regime is key to prepping the hair for styling.
2. Exfoliation of tresses is essential, start to prep the hair by using KEVIN.MURPHY MAXI.WASH, and using a hero shampoo and conditioner duo such as HYDRATE-ME WASH and HYDRATEME.RINSE to address specific hair needs and end by cleansing with RE.STORE.
3. Next, apply leave-in treatment, LEAVE-IN.REPAIR, to problem dry areas. The targeting technique allows hair to absorb the lipid proteins and repair where necessary.
4. Massage ANTI.GRAVITY into the roots to add natural volume.
5. Using LARGE.ROLL.BRUSH, do a classic smooth rolling blow dry, which will buff and polish the hair, however allow for a soft kick at the end of the hair – the use of a boar bristle brush will be key to locking in the style.
6. Add extensions where hair is thinner and needs consistency.
7. Layer in SESSION.SPRAY from the cheekbone line up to the roots and mould the hair and smooth with SMOOTHING.BRUSH, so that there's no movement. Hair should be a narrow and tight silhouette.
8. Finish with EASY.RIDER to accentuate the curl at the end of the hair and SMOOTH.AGAIN to tame any frizzy problem areas.
9. All styling products used should be seamless and invisible.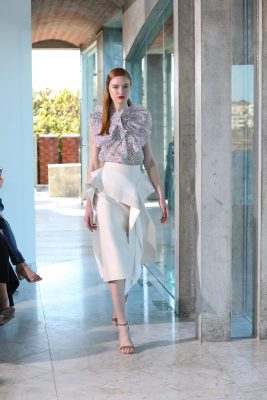 Get the look – Night Look:
1. Prepare hair using leave-in treatment, LEAVE-IN.REPAIR to problem areas, a treatment that is designed to repair damaged hair without adding weight.
2. Apply ANTI-GRAVITY to roots, mid-lengths and ends of the hair where needed to provide lift and volume – a great base to curl hair with.
3. Use a medium-sized curling tong to complete the signature KEVIN.MURPHY undone look, personalised with a positive and negative set.
4. To finish use KEVIN.MURPHY's yet-to-be-released styling product BEDROOM.HAIR, layer in hair and personalise as needed.
For more information visit kevinmurphy.com.au
Click here for Styleicons|TV.