Welcome the new KMS – an entirely different brand incarnation, with updated packaging, new products and an audacious campaign redefining their new era. While the haircare company has confidently reinvented itself aesthetically, what remains the same are KMS' core values – a commitment to professional hair, product innovations and reaffirming style as a global language.
"2016 saw KMS celebrate 40 years as an industry leader, then known as KMS CALIFORNIA, where the brand first originated," shared Louse Chamberlain, Marketing Director, KAO. "We now move to a more global inspiration, in keeping with our belief that style is truly a global language. KMS continues to be inspired by urban street style, from art and culture, to music and film; and from London and Tokyo streets, to the runways of New York and Sydney."
So what defines this relaunch? First, an aesthetic rebrand, with every product demarcated into categories of start, style and finish, all showcased in different, muted tones. The entire range forgoes the brand's previously vivid product look with this more subtle colour approach, with the product lines mostly defined by white and grey hues, however the brand's colourful energy remains in brighter branding across each product. Comprehensive product information, streamlined branding and complementary muted and colourful tones are used to create the Raw Sophistication aesthetic brief.
"We are excited to introduce a revitalised range, which features refined packaging design and minimal bottle silhouettes," Louise said. "The process of product prescription has been simplified and more intuitive, based on three key elements – start, style and finish."
The brand's reinvention extends to a strong editorial campaign, based on the Style Matters brand identity and theme. Taking models from every demographic, the campaign portrays different relationships, showing style's significance above age, sexuality and gender. The campaign makes sometimes provocative statements about the nature of 21st century relationships, deciding that the minutia that defines these diverse relationships is unimportant – especially compared to the importance of pure style. KMS define 'style' as the way you express yourself, a unifying factor in the melting pot of society, and therefore an intrinsic facet of global culture.
"The new 'KMS Couples Campaign', builds on the brand's unisex DNA and celebrates individuality and diversity," Louise shared. "Here we are talking about more than ethnic diversity, it is also diversity across age, gender and sexual orientation, strongly championing individual choice and expression."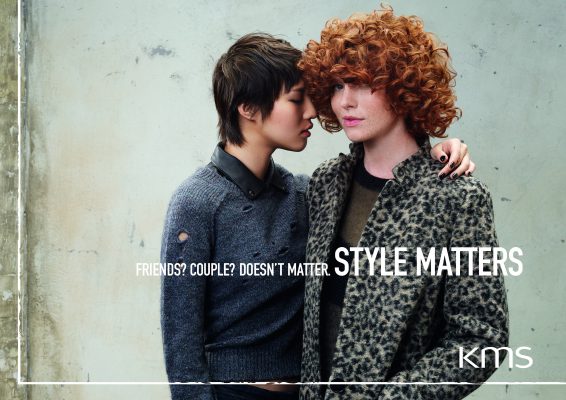 The ambitious campaign was created in Berlin, as the KMS Global Style Council embraced the city's essence and photographed the images at a graffiti-strewn warehouse. Each stylist brought in their own international style influences – London, New York and Seoul were all captured in the campaign vibe – and utilised the most innovative brand products to ensure the global message came to life.
Featuring in the new brand era are two necessary product launches – the all-new Add Volume Liquid Dust and Add Volume Texture Crème. The Liquid Dust is derived from Berlin's famous techno club scene, an environment where the city's hipsters would use hair powders to create big hair that could last until the morning. The new product promises fullness and shape without any mess or residue.
The Texture Crème is the ideal solution for clients with fine hair, centred on London's iconic street style (and essential in its tumultuous weather). The product's calcium minerals coat the hair so that it feels thicker and looks fuller, ensuring up to 80 per cent more volume. The product protects hair from humidity and fog, offers heat protection capabilities and provides a lightweight, thickening boost to the body and width of each hair style.
The brand launched these new initiatives at two high-profile industry events. The preview event hosted beauty media at Sun Studios in Alexandria, showcasing the new imagery, updated products and Alan-White led instructional styling videos over lunchtime canapes. The brand then held a night-time party at The Dolphin Hotel in Surry Hills, with an esteemed menu by Monty Koludrovic, a wine list selected by sommelier James Hird and music by Ariane & Mira Boru. Both events showcased the new initiatives – and KMS' suave core branding – in supreme style.
And it's that commitment to style in every aspect that rings true to the KMS ethos – no matter how much the brand continues to evolve. From its Californian roots to a global blueprint, KMS' main message is universal.
For more information visit kmscalifornia.com
Click here for Styleicons|TV.