Luxury fashion and wearable sportswear joined forces this week as active wear brand Stylerunner launched their all-new capsule collection – New Guard. Comprised of a natural palette, athletic silhouettes and versatile basics that don't discard fashion for comfort, the launch took place at the basketball court atop the Ultimo Community Centre. Of course KMS and Prema, led by Garreth Lenagh, were there to style top knots and sporty hair looks every girl would want.

"With evolving active lifestyles, a new fashion language is emerging and what our wardrobe needs to be capable of has also shifted," Stylerunner CEO and New Guard Creative Director Julie Stevanja shared of the collection. "Dress codes are relaxing globally but that shouldn't mean that fashionability is discarded, New Guard is my vision of luxury for the future, where comfort itself is considered a luxury and that fashion can remain aspirational without breaking the bank. As the name suggest, the collection represent the new way we live and how fashion plays into that."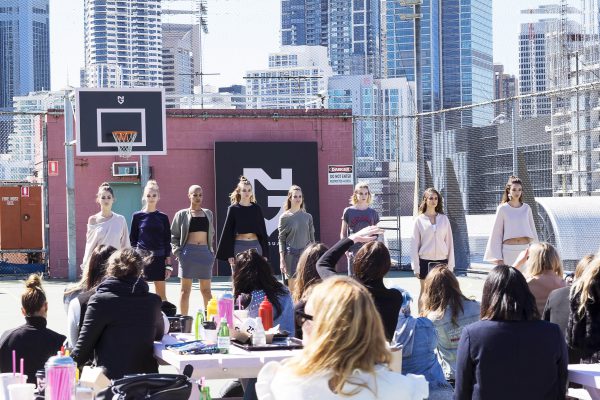 The show was a conceptual event rather than just a runway spectacle, with cafeteria-style breakfast (think burgers at 10am and breakfast smoothies) and a DJ setting the musical scene. Kanye West proved the soundtrack of the morning, with models and interpretative dancers moving and walking to his iconic tunes.
Two hair looks centred around the top knot, with a full top knot look and another that was half in a top knot and half down with wispy pieces left out – like the post-workout look everyone wants but can't really achieve. KMS's Playable Texture, Dry Wax and Makeover Spray were hero products in achieving this unique look and texture.
MAC Cosmetics complemented this look with dewy, polished skin, letting that carefully constructed glow and hydrated look become the focus of the beauty brief.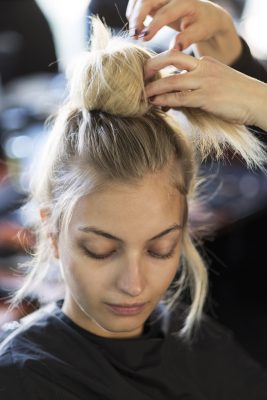 Enter a new era where luxury, fashion and exercise are indistinguishable from each other.
Get the look:
Loose natural textured waves with active top knot.
1. Spray hair with HAIRPLAY Dry Wax to create dry natural texture.
2. Using a 1 inch tong, create further movement and texture.
3. Pull top half up into a loose top knot and secure pins.
4. Finish with HAIRPLAY Playable Texture leaving some pieces to float out to create natural movement.
For more information visit kmshair.com
Click here for Styleicons|TV.