La Biosthetique's new Melbourne establishment is what we're referring to as a 'slashie salon' – this space is so much more than meets the eye. Poised as both a flagship salon, with a comprehensive beauty offering, and all-new academy, Salon Franc offers education and services in hair, skin and makeup – and possesses all the amenities with which to deliver this considerable range of services.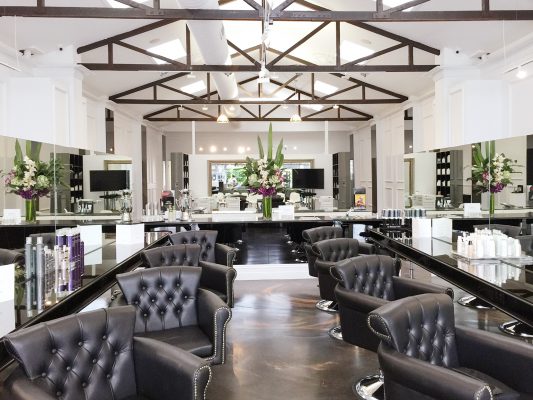 The salon is made to deliver a 'total beauty ritual', within which skincare and hair exist seamlessly in the same services and practices. As such, it houses flat lie basin beds so facials can be given at the sink. Other features include a custom built tea and towel area for clients to feel that trademark La Biosthetique luxury. Aesthetically, sophisticated white walls, black leather chairs, fancy mirrors and marble floors make up the chic space in the brand's signature style. The academy remains as wide-ranging as the salon, delivering education for both stylists and therapists.
La Biosthetique unveiled the all-new salon and academy facilities to guests over the Hair Expo weekend, with the usual Parisian treats (think good music, champagne and fancy hors d'oeuvres).
Paul Frasca from Sustainable Salons was there as a special guest, making the announcement that the La Biosthetique Academie and flagship salon will be the first hairdressing training facility in Victoria to be 100 per cent sustainable, harnessing the brand's values that include no animal testing and maintaining a carbon neutral ecological footprint. The academy flagship salon will recycle 95 per cent of its waste, with 100 per cent of the proceeds gained from recycling to be donated to charitable organizations, such as Oz Harvest and Variety Charity.
"It is so important to us that we continue to support and promote sustainable practices within our industry, instead of polluting our waterways with excess product and colour waste they can now be recycled, whilst things like cut hair will be made into booms used to absorb oil spills," said Rob Aubin, CEO of La Biosthetique Australia. "Thanks to Sustainable Salons, this is all possible."
With education, luxury, customer service and eco-consciousness as its core values, the new space is set amongst Melbourne's elite institutions, with the surrounding galleries, high-profile restaurants and designer boutiques evoking an almost Parisian feel. Seems like the perfect fit for La Biosthetique's new endeavour.
For more information visit labiosthetique.com.au
Click here for Styleicons|TV.