Inspired by an underwater oasis, the La Mer collection by Kobi Bokshish of Intershape Hairstylists is a sophisticated take on the beauty of the ocean, replicating its elements in terms of texture, movement and shape.
"Our perception of beauty has evolved but the imperative nature of foundation hairdressing remains the same," Kobi explained. "My approach to hair design has and always will be built on the philosophy of Vidal Sassoon – structural to the core. Here, like the life under the sea, I have taken an iconic canvas (Sassoon) and manipulated the shapes and texture for a fresh approach to artistry."
The collection visually replicates images of coral and sea urchins in its textural design, while wet looks and weightless aesthetics recreate the feeling of the ocean.
Kobi predicts this season's hair trends won't focus as much on length and instead tend towards texture, which is clearly showcased in the collection imagery.
Inspired by the natural wonders of the ocean, the La Mer collection is a unique and editorial take on these images, playing with texture and shape to recreate oceanic images in an entirely new way.
Credits:
Hair: Kobi Bokshish
Make Up:Nicole Thompson
Photography: David Mannah
Stylist: Letica Dare
For more information visit www.intershape.com.au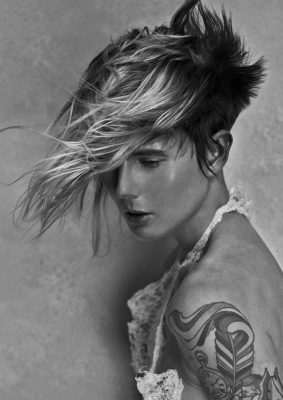 Click here for Styleicons|TV.