Julie Jeffries of Pierrot's Hair in Western Australia shares her secrets to running successful salons for 34 years. Strong marketing, a focus on training, environmental awareness and committing to their Aveda mission have spelled awards, satisfied clients and a family-like environment for over three decades.
If you've heard of Western Australian salon Pierrot's Hair Studio, there's a strong chance it was in the voice of an announcer calling out the name of the latest business award winner. The salon has been a finalist for Hair Expo Business of the Year three times, and won the award three times at the Australian Hair Industry Awards. They've received Small Business of the Year, Excellence in Customer Service and Training and Education accolades that go beyond even the hair industry. More impressive still is the two salons Julie runs for her consistently satisfied clients (now in Kalamunda and Mount Lawley), beginning 34 years ago with one small salon and expanding to her two-salon, twenty-something staff empire today. For Julie, the tenants and reasons for her success are clear as day.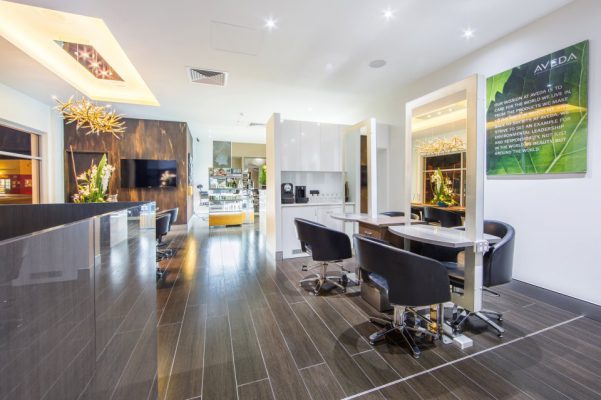 "It's been dedication and passion for the craft and the industry and always trying to be better," Julie shared. "We have a focus on high end service, and we're always doing more and looking for something new or different to offer our guests all the time."
Specifically, marketing has been a major facet of the business right from the very beginning. "I've always been very big on marketing, right from 34 years ago, I would do it all myself and write hand written birthday and thank you cards to guests," Julie said. This mentality has evolved with shifting times, and the team now boasts premium digital marketing and thousands of followers on Facebook and Instagram.
Starting her success in salon with the staff, Julie keeps training in-house, and has run her own apprentice training program for over five years, with three different levels of training. From a business perspective, she sets constant benchmarks in areas such as productivity, retail, rebooking and more, and surveys each staff member's weekly stats, constantly pushing, motivating and inspiring her staff to work hard and be at their best. The awards don't lie, and neither do numbers that see 80 per cent of clients at the salon having colour services. Constant business awareness and perseverance garners results.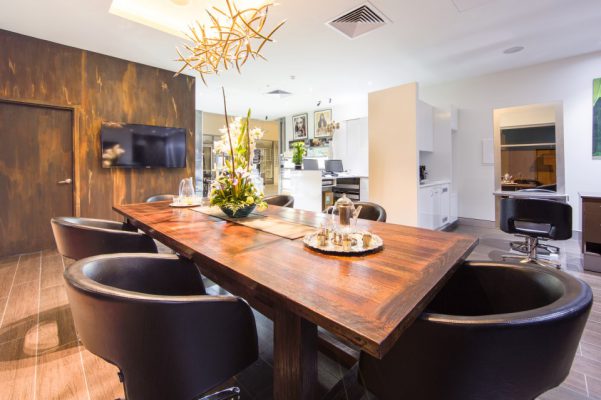 The salon wouldn't have its distinct identity without its partnership with Aveda, which increases its success in business, product, service and ethos – but it all began with the inspirational story that led to the relationship in the first place.
"I originally found Aveda about 17 years ago because I had developed a chemical allergy. I was at the point where I couldn't do anything but cuts and blow waves and even then I was blotchy," Julie said of the affliction that almost derailed her career entirely. "I saw Aveda as something that might help me, which it did. It was three months before the allergies stopped, that's how much the chemicals were in my system, but then all of a sudden it was a like a switch went on and I've been fine ever since. I'm a walking advert for why we have Aveda and how it works."
It was something of a blessing in disguise, as Aveda is truly the ideal fit for Pierrot's Hair Studio in so many ways. The brand's focus on business perfectly suits the salon's passion for the training, marketing and the numbers side of the salon. For examples, the salon hosts ABC (Aveda Business College) meetings every six weeks to go over benchmarks and devote specific time to their business. While meetings and team huddles happen often during the week, it's these full-team evenings that act as the pinnacle of their business strategy.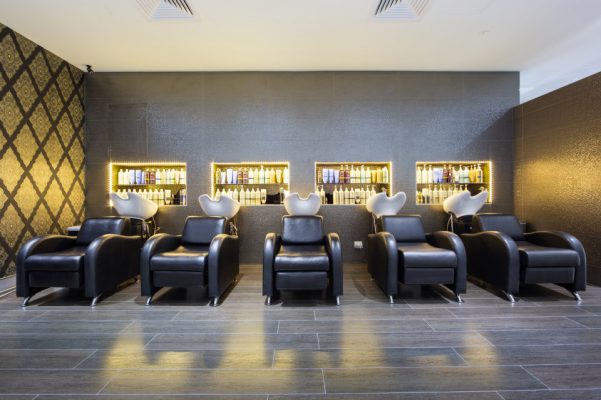 Then there's something Aveda is famous for – their all natural, environmentally conscious ethos is perfect for Pierrot, which prides itself on being eco-friendly and chemical free. "We're very much into the environmental issues for the whole salon. When we built the last salon all the paint we used had no chemicals and no chemicals are used for cleaning, so we can follow the story all the way through and we're passionate about it," Julie said, also detailing recycling programs that take their passion for the environment a step further. "We advertise on our newsletters that we're chemical free, we follow it through, we follow the mission, we don't only use the products."
Beyond that, Aveda's rituals (the salon offers various massages, makeup services and teas), international opportunities and far-reaching reputation are just some of the reasons the partnership is so invaluable.
"It's unique, boutique and high end and we're high end so it pairs with that," Julie explained. "Guests love it because we've sold the Aveda mission, we receive a lot of guests because of that. We have almost daily phone calls saying, 'I've heard you have a product that doesn't have chemicals in it', or we have guests coming in because they find out we're an Aveda salon. We constantly remind guests of the story, of why we're Aveda."
The brand supports the salon emotionally and creatively too. The salon actively helps employees, offering wellness coaches, medical practitioners and health professionals that employees have access to, and fulfilling the strong Aveda wellness mission entirely. Also, Aveda's original, customisable colours engineer artistry amongst the colourists, allowing them to constantly experiment and try new formulations.
Ultimately, no matter how much Pierrot's Hair Studio has grown, Julie, her staff and her clients still feel like a family, and Aveda is the extended family that reaches far and wide but still feels close. "What we love about Aveda is it is a family, we do know all the other salons, we know everybody, we have great support," Julie confirmed.
For a salon – and a brand – not afraid to push the limits, try new things, work hard and go the extra mile, all within an ethos and identity that's impossible to compromise, Pierrot's Hair Studio and Aveda have gone hand in hand for seventeen years. Their success isn't difficult to decipher.
For more information visit www.experienceaveda.com.au
Click here for Styleicons|TV.