Update: The matrix Collective finals have been postponed to Sunday June 27 at 7:30pm due to the Melbourne lockdown.
matrix will host their matrix Collective finals online and streaming nationally, where they will announce the dynamic state winners, host guests speakers and engage in live chats and polls.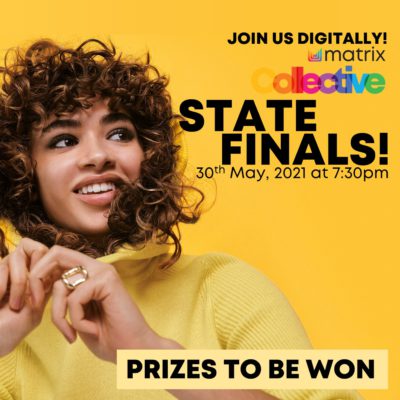 "Come and celebrate with us our beautiful Australian salon community during a night of hair artistry," the brand said. "The winners of the competition will be announced on the night, but for those joining us, we have multiple prizes to win on the night."
The winners were decided by a judging panel consisting of multi award-winning colour specialist and educator Kristina Russell, 2020 AHFA Artistic Art Team of the Year Winner Malisa Masci and matrix Vice President of Global Education Alfredo Lewis.
Now all the talented finalists, listed below, will recreate their looks for the live event and one winner per state will be announced, with each winner awarded a flight to Sydney for the opportunity to be mentored by matrix Australia Creative Director Kobi Bokshish. Kobi will guide the winners at a shoot to be featured in a 10-page spread and on the cover of INSTYLE magazine and shared across social media. These winners and state runners up will also be awarded a L'Oréal Beauty Pack valued at $400 and a trophy.
In an event highlight, the evening will feature a live hair show featuring matrix Artistic Team and squad members Kobi Bokshish, Adam Ciaccia, Mat Johnson, Sam James and Tarik Jasarevic. Attendees can also win prizes during Q&A sessions on the night, including one of three luxury hampers with total value of $1,500, with so many more festivities in a true night of celebration. Guests will also discover more about the 2021 iteration of matrix and its important rebrand.
It's totally free to join and register, so log on for a night full of celebration and lift up your matrix Collective champions for 2021.
Congratulations the full list of matrix Collective 2021 finalists:
VIC
Joyce Clarke Henry – Clarke And Co Hair
Emma Bruce – Ems Hairdressing
Sarah Michael – Boheme Hair Artistry
Isabella Shepherd – Mayko Hair
Tiana Dean- Fallachi Hair
QLD
Samantha Pilbrow – Hair By Sam Pilbrow
Lauren Pilcher – Chroma Hair Studio
Kimberly Wild – B&B Hair Salon
Bre Henwood – Jack Horton Hair
Natalie Bonell – Hair Room On Russell
NSW
Janelle Snyman – Galen Colour
Ariel D'Astoli – Sterling on Buckingham
Kiera Stevens – Urban Raw
Teagan Lindsay – Transpire Hair
Sophie Labour – CC Hair
SA
Melissa Agnello – SJ Establishment
Danielle Raine – Wilde Style
Tina Belham – SJ Establishment
Jess Gore – Acqua Lounge Hair Studio
Alicia Jones – MJ By Mat Johnson
WA
Rachel Gillott – Hair By Us
Kate Taylor – House of Melvan Artists
Carlie Harwood – Hairhouse Warehouse Midland Gate
Nadin Winter – Karlique For Hair
Karla Mazza – Karlique For Hair