It's one of the most anticipated shows of Fashion Week, hands down, and once again Kym Ellery failed to disappoint – pairing with Alan White and ghd for a nomad-meets-otherworldly-goddess-who-digs-punk vibe.
Alan White for ghd backstage at Ellery SS14/15
Titled Opaque, Ellery presented "a collection of evening wear pieces inspired by the science of light and the relationship between form and shadow … boxy corsetry, signature bell sleeves and the occasional sharp, smoking suit."
Sharp, soft and boyish, androgyny was a given.
"Well firstly, there had to be en element of softness but also a boyish vibe," described ghd Hair Director Alan White of the Ellery brief, post-show and before one of Sydney's most iconic views.
Notorious for an offsite showcase, Ellery spring summer 2014 was revealed at Sydney's infamous Icebergs dining room, overlooking the ever-changing illustration that is Bondi Beach. It was a strong front row (as there was just the one) with all else crammed in any corner spared, some behind the bar. Not very 'fashion' but anything for a first-glimpse of Kym's latest installment that, for the coming season, is an expression of crisp white, fierce black, long and slim, plunging necklines aplenty. Cue: grunge goddess.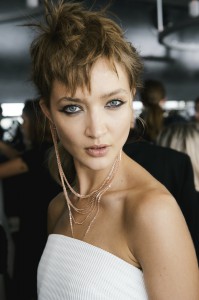 It's a show notoriously held high aboard a fury of expectation, so who better to exceed all preconceptions than Sir Alan White, powered by ghd.
"First of all she wanted it chewed, you know, like nothing had been done to the hair. So we started with ghd Total Volume Foam, and really nailed that tough gritty texture before getting movement into it with the ghd Mini Classic Styler," he explained.
"And then we went back and dressed it with the oval brush, and what that does is bring the style back to 'their hair.'"
From there, Alan and the ghd team did what they do best, free-styling each look into a low slung pony tail paired with purposeful fly-aways for undeniable undone-ness.
Next the fringes were applied, each unique in texture and colour. A creative-cool twist delivering a piece of punk that sat beautifully with the collection's soft sophistication.
"Yeah I guess there was a punk element. Well when you're going to put a fringe on and you want it to look different, it's either going to look like a toupe or it's going to look punk," says Alan.
"It's a fine line, we don't want a toupe and we don't want blended fringes."
Each hairpiece borrowed from the Ellery collection – muted nuances of grey, pink and burgundy.
"We started with fire engine red and a deep navy blue but it started to become more of a hair statement, and this 'do' is about stepping away from the hair, and letting it be its own thing," said Alan.
While Alan hints to grey as a hero colour for the fashion focused this spring summer 2014, he promises the pop colour movement is generally toning down, diffusing into light pastel territory.
And that superlative shine adding flash to Alan's raw texture? The new ghd Aura Dryer made its fashion week debut with rave reviews.
"Because of the way the hot and the cool works it just dries hair in a different way, and so much quicker. There's more body, more volume and more shine," finishes Alan.
GET THE LOOK
1. Prep damp hair with ghd total volume foam from roots to ends and comb through using ghd detangling comb to ensure it is evenly distributed.
2. Blow dry the hair using ghd air with the ghd air diffuser to create a natural wave and movement.
3. Accentuate the wave by using ghd V gold mini styler, picking up random sections and creating movement in alternate directions.
4. Once cooled, brush hair through using ghd oval dressing brush, then using your hands, gather hair into a low ponytail and secure. Leave out soft pieces around the hairline.
5. Place fringe hair piece on top of the head and pin into place. Using ghd smooth and finish serum and your fingers, add texture to the hair by working it into the existing hair.
6. Finish with ghd final fix hairspray to encourage texture and set the look.
For more information about ghd visit www.ghdhair.com/au.
Click here for Styleicons|TV.