A soft, feminine style and deceptively complex approach to colour by Goldwell complemented the regal Vihara collection by Aje. Fusing modern elements with ancient artisan techniques, the collection was inspired by Monastic life, and the elegant looks were finished with soft, multidimensional hair.
Hair styling was created by Dale Delaporte, while colour was achieved by Kate McQuitty, both of Prema Salon. The look was made up of a soft low pony tail silhouette, with texture at the top and hand coloured balyage pieces at the ends.
"Aje is a quite feminine brand so we've kept the shape quite feminine," said Dale. "We've got this little drop that happens at the back, but we've softened out the silhouette at the front, with texture through the top."
"Being Goldwell we wanted to add a bit of a colour element to the style, but in keeping with Aje, it couldn't be anything too outlandish," Kate said of the colour look. "So we came up this way to sneak in that little bit of colour that's contrasting to their natural colour, so it stands out as being coloured without being pink or blue."
Each colour was made to complement the model's individual hair look. The models with lighter hair had contrasting warm and earthy brown tones in their hair pieces, whilst the naturally darker models were given a pearlescent shade for the ends.
Hero products were cited as the Goldwell StyleSign Power Whip and Naturally Full when it came to creating volume and lift, and Goldwell Colorance in creating the mutli-tonal colour shades.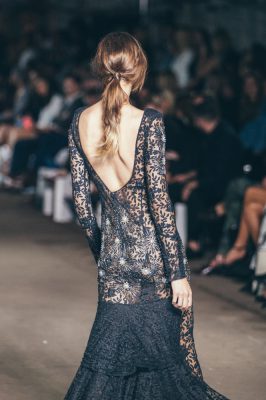 The runway was set up with candles at the base, taking the look of an ancient temple. Elegant and embellished evening gowns, as well as detailed ready to wear pieces were sent down the catwalk, as the collection seamlessly merged old and new, and art and commerce.
For more information visit www.goldwell.com.au
Click here for Styleicons|TV.