KMS California hair director Garreth Lenagh created a slick, modern and dramatic aesthetic for We Are Handsome's 'The Catalyst' Spring Summer 14/15 collection.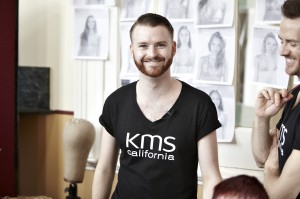 KMS California Hair Director Garreth Lenagh, Prema
Set amidst the lush tropically decorated surrounds of Paddington Gardens Reservoir 'The Catalyst' showcased bold, original and contemporary swimwear designs where enchanting graphic prints dominated the runway.
Perfectly bronzed male and female models reflected the aura of a tropical lifestyle with an edge of sophisticated polish. Avoiding a 'wet-look' in the hair models sported texture and strength – some even carrying live snakes down the runway.
"This year we really wanted our hair to make a statement and reflect the contrast and bold nature of our collections ," said We Are Handsome designers Jeremy and Katinka Somers.
Creating a pulled back look with height at the front, hair was both voluminous but with a sleek silhouette, maintaining clean lines for a polished resort-esque feel.
"The hair for We Are Handsome is demonstrating structure in a euphoric style. Keeping clean lines. The girl who wears this will be confident and powerful," he said.
Adding a sophisticated French braid to several models added further structure and sophistication to a intrinsically fun brand.
GET THE LOOK:
1. Prep hair with KMS HAIRPLAY sea salt spray and KMS ADDVOLUME styling foam, applying from root to tips.
2. Mist hair with KMS FREESHAPE 2-in-1 styling + finishing and blow dry side sections of hair away from the face 
using a paddle brush.
3. Blow dry top and crown sections with a medium round brush, pulling up from the head.
4. Create a part from above the temples (where the head starts to curve), around to the crown and repeat on the 
other side – separating the top section. Secure in place with a clip.
5. Apply a small amount of KMS TAMEFRIZZ smoothing lotion from mid lengths to ends.
6. 'French Braid' the remaining hair vertically down the back of the head and secure with clear elastic.
7. Release the top section and lightly tease hair at the roots – starting at the crown section and working forward.
8. Lightly brush the top section to conceal teasing, and spray KMS FREESHAPE 2-in-1 styling + finishing to secure 
the final shape.
9. Lightly mist hair with KMS HAIRPLAY dry touch up for a smooth, silky finish.
10. Secure remaining hair into the base of the ponytail for ultimate neatness.
For further information on KMS California, visit http://www.kmscalifornia.com/en-au/
Click here for Styleicons|TV.