Working within the challenging times of 2020, famed haircare brand and education facilitators muk Haircare cancelled their live education programs and transitioned to online sessions via their Facebook creative group, now launching a dedicated YouTube channel and Instagram account to further strengthen this platform.
Their online offering showed off extreme education talents, such as Global Technical and Education Manager, Judi Seeley and Guest Artists, Clive Allwright, Brent Bennett, Razor Dolls, Lizzie Liros and Stevie Vincent, in  a collection of over 50 sessions, including live sessions with Clive at home and in salon and spanning information on the brand's entire portfolio.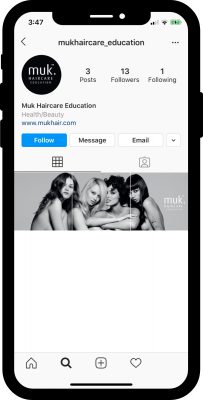 "The key purpose of the online sessions is to offer education and inspiration to our muk community at a challenging time, where hands on education is unavailable," explained Judi Seeley, who has pioneered the platform behind the scenes. "Following on from the great success of the online sessions, muk Haircare has launched two new platforms to ensure all content is available to a wider audience."
The new muk Haircare Global Youtube is a dedicated channel accommodating all content videos featuring muk Guest Artists, including salon explorations and sneak peaks, business management strategies through COVID-19, and education into dynamic techniques across cut, style and colour. The new Instagram feed, at @mukhaircare_education, provides additional inspiration and information that is timeous and relevant across the industry.
muk Haircare is ensuring we can learn together and be inspired together, even when apart.
For more information visit www.mukhair.com