KEVIN.MURPHY and Yves Saint Laurent have teamed up for the upcoming Myer SS17 show, creating four hair and three makeup looks that are versatile, wearable and ultimately fashion-focused.
For hair, Kevin will be joined by Session.Masters Nathan Gorman and James Nicholson, as well as a dedicated backstage team, in crafting the looks. The styles range from Effortless Runway, a soft chignon that embraces natural hair texture, to Chic 'n' Smart, a sophisticated style with polish and sheen, and Ogranic-Texture Hood, a conceptual look that is bound by a hemp fabric. This look celebrates the silhouette of the head, wrapping this shape with fabrics, denims and turbans, courtesy of the show stylist. The hero look is Supernatural Woman, a style that is meant to look like braiding, but is actually achieved by binding the hair with thread, making it easier for clients to achieve themselves.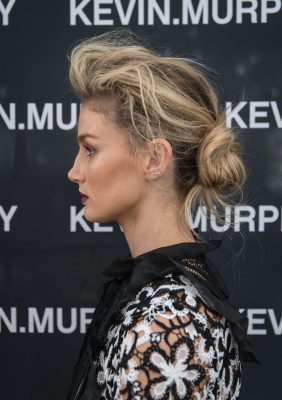 "With 75 models we've decided to diversify and do four different hair looks," James explained. "Myer is a brand that allows us to interpret looks that are being seen on runways globally. We're not trying to reinvent the wheel; we're taking things that are trends and then reinterpreting them. We usually have to boil that into one look but with Myer we are allowed to diversify that this time and by doing 4 looks we can take more trends that are going on around the world and deliver to the show."
The overarching thread (pun-intended) connecting each look is the all-encompassing wearability for consumers of all four aesthetics, as well as a reliance on binding. As such, KEVIN.MURPHY's Needle and Thread Sewing Kit acts as a hero tool, as well as the always indispensable DOO.OVER and HAIR.RESORT.SPRAY products.
"For us as the creators, they're all bound in some way," James shared of the looks. "So we're using linen, thread and needles in all 4 of the looks in order to restrain the hair somehow. The fashion is exploding with textures and prints, so the hair needs to be a little controlled and not be the hero.
For makeup, three beauty looks by YSL also push the boundaries within consumer wearability, beginning with a nude slightly-contoured look, moving to a fresh skin and deep oxblood bold lip look and finishing with a glossy, copper, slightly smokey eye, to be shared between the multitudes of models.
The show will be presented to 350 VIPs at Sydney's Fox Studios on August 23rd.
Get the look – Supernatural Woman:
The look: strong sectioning and hair "binding"
1. Bind away sections of hair with linen thread, accentuate with KEVIN.MURPHY HAIR.RESORT.SPRAY 2. 'Dent' the loose hair with a large tong, form natural waves, laminate with KEVIN.MURPHY DOO.OVER
3. Spritz with KEVIN.MURPHY SHIMMER.SHINE
For more information visit kevinmurphy.com.au
Click here for Styleicons|TV.