Utilising the skills necessary in creating modern bridal and event long hair styling, Lorna Evans has drawn from ancient cultures in the creation of the Oracle collection.
Inspired by the ancient Egyptian Goddess Isis, with a throne-like headdress, the collection incorporates regal headpieces, rich blonde, brunette and auburn hues, big, adventurous shapes and a fashion palette of whites, gold and metallic tones to create a classic picture of female strength.
The looks were achieved through Lorna's newly created 'pinch and pull' technique, made with a piece of mesh, a latch hook and padding mix in order to design the Avant Garde shapes. Lorna also heavily utilised the innovative Thredlox tool in creating the texture for many of the unique finishes in the collection.
With Curl Paper millinery designer Mandy Duncan and Designer Lea Oldman on board, Oracle is a regal ode to powerful women throughout ancient history, for the next time your bridal clients want to feel like a goddess.
Credits:
Hair – Lorna Evans
Photographer – Alex Pott 
Make-up – Bernice Mansfield
Designer –Lea Oldjohn
Paper Headwear Creations – Curl Paper
For more information visit www.lornaevanseducation.com.au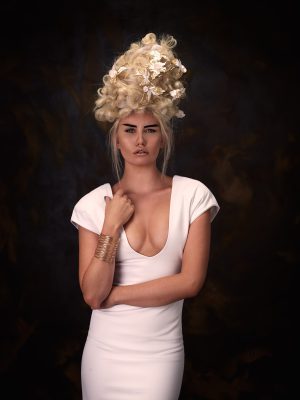 Click here for Styleicons|TV.