Pieces of flexi-glass, putty-knives and embroidery kits have all been highlighted as go-to tools in creating this year's array of interesting hair trends, and the newest unconventional accessory will be a sewing kit.
That's if Redken and legendary hair designer Guido Palau have anything to say about it, after completing a stunning showing for Alexander McQueen at Paris Fashion Week, where hair sewing was the main beauty event.
It was a fitting final touch – with couture gowns that included detailed embroidery, textural variety and the unique employment of fabric, a show-stopping hair look was expected, and Guido certainly delivered. The resulting hair-sewed up style has been dubbed by international media as the next big hair trend.
Armed with just Redken's Windblown product, a needle and some thread, Guido created the look by threading through the hair at the hairline on either side of a messy part, building shape and texture by allowing the thread to catch and leaving bumps along the way. This continued to the bottom half of the hair, creating an ultimately ruched detailing to the hair.
"[Designer] Sarah Burton wanted the hair to feel very natural and soft and feminine, but also artisanal, since a lot of the collection is based on artisanal workmanship," Guido told Allure. "I wanted there to be interest when you looked at the models from the front, not just the back. You know when you put something through a sewing machine and when you pull it, the thread ruches? That's the idea we were going for."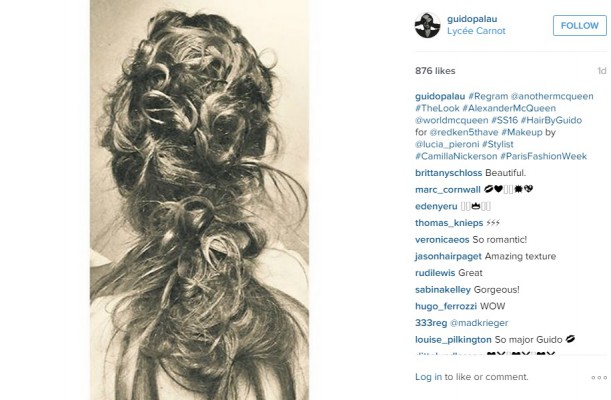 Finished with soft, feminine flyaway hairs, the look was an ethereal, complex take on runway beauty. Remember to pack a sewing kit with the rest of your tools when you explore your next editorial venture.
For more information visit redken.com.au
Click here for Styleicons|TV.