For the 6th consecutive year, Phorest Salon Software has taken the lead on Salon Business enhancement with its Salon Business Summit in the heart of the brand's birthplace and arguably the world's 'friendliest city'. Welcoming a new frontier in customer relationships for salons we take a look at the history and heritage that makes Phorest Salon Software a master in growth, writes Cameron Pine.
Taking over Dublin's city convention centre and the renowned Temple Bar precinct with more than 500 salon owners, Dublin's dynamic culture of people friendly innovation came to the fore in a city not only with Europe's youngest population, but a brand boasting some of our industry's youngest talent.  With more than 650 licensed pubs in a city of just 1 million people, Phorest's Summit ensured a culture of celebration translated through a collective spirit.
Bursting at the seams with content, the 2020 vision themed Summit included an array of speakers, workshops, an 'Inside Phorest' seminar that collectively leveraged an invaluable opportunity to head back to the salon with a degree in business management that only the Phorest philosophy knows. Add in a unique level of energy within the brand's DNA, whether it be getting everyone up Freddie Mercury style with an electric rendition of Bohemian Rhapsody to kick off a 9 hour day of speakers and  set the mood for a day of newfound discovery and learning  through a culture of adaptability – the disruptive software brand gives 'let's grow' an infinite array of meaning.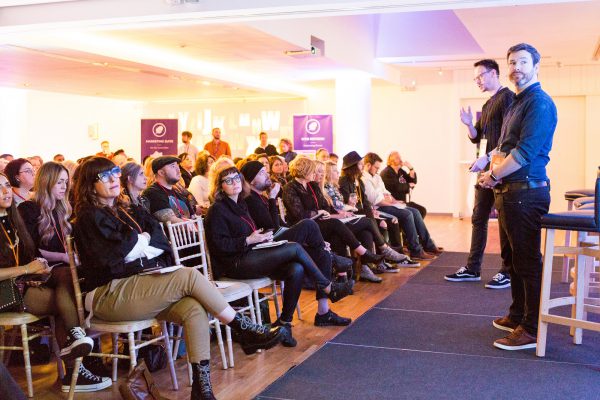 Musing over Business rather than creativity is often a powerful medium that's overlooked for the salon industry, from how you market your salon to the user experience for staff – Phorest has found the formula for success within their forever growing Summit – a software brand with heart that focuses on people and not just process, which still today idenitifies with the same mission – to get clients back more often and to spend more.
Themed 2020 vision, the idea of the Summit was to unlock a better way to utilise many of the various features within the Phorest community – an ever increasing smorgasbord to shape the future of your salon. When Phorest first began in 2004 as a salon SMS feature to fill empty appointments in a Dublin salon's quietest time of year to now, the level of change to keep up with technology is a forever fueled beast inside the Phorest network. From the outset, Phorest began with founder Ronan Percival's vision and appreciation for the salon environment. "The energy and atmosphere in a salon environment is very hard to explain to someone who hasn't spent a lot of time there – what we create at Phorest captures this understanding and the challenges Phorest clients go through every day," Ronan said.
"We have salon owners from the US, Europe, Germany, the UK, Ireland and Australia here to learn about ideas for the future that can take us through the next ten years. Our theme for the Summit this year is 2020 vision and I think you'll all agree there has been an unbelievable amount of change in the last ten years with salon technology and we need to get ready for the next ten years," Ronan said.
"We've assembled a range of speakers that are relevant to owning a salon business today, to managing and motivating millennials, to using Instagram better in your business to get more clients in and ultimately to make your salon more profitable," he said.
From fully branded salon apps gaining focus in 2019 to various product refreshes each guest on the first day at the Summit prior to the formal proceedings the Summit from the UK and nearby locations were given a crash course on some new features, improvements and enhancements.
"Today and our Summit in general is all about getting the most out of Phorest. The majority of our client's aren't always aware of all of our features. We are committed to creating the tools to grow your business but we recognise the problem can be that you are not always aware of how to maximise them," Ronan said.
In 2020 Phorest promised its global network of customers that there will be two main focuses; a product refresh across the board and a focus on Instagram maximisation. But most importantly, the opportunity to connect was aligned to creating an open forum and questions from the audience on pertinent topics that all salons can relate to. From something as simple as putting all staff member rosters on the one screen (which had everyone in the audience cheering) to simplifying processes and functionality like allowing staff to receive a notification on an iPhone or Apple Watch when their client arrives. This is all part of making a salon business function at a higher level and more efficiently.
With delegates having the opportunity to post questions live to a home screen through the slido app, it was all about breaking down barriers and giving everyone in the audience the confidence to have their questions answered and be inspired by the future in the process.
Almost like an extension of the Phorest philosophy via a posting board – salons can post any frustrations or issues on the noticeboard and the more people that like them, or engage with the same frustrations the higher priority it becomes for Phorest to action and work on something to improve it. It's software that's all about the user experience and how your business looks to the customer.
"Mobile is the future and currently at 67 per cent growing". This takes into account customers using apps to make online bookings and engage with their favourite brands and businesses."
An all new branded app for 2020 became a key topic of conversation with Phorest developers sharing key metrics on how it increases engagement and enhances a salons, from salon logos to social icons and email campaign compatibility, it really helps salons to put a stamp on their marketing and is further maximised by Phorest's mission to ensure salon's make the most of their Instagram marketing.
"Expect a lot of growth in 2020 around stories. In 2019 there has been on average of 500 million story users daily – yet a 36 per cent drop in website clicks on average – this is all about where your customers are."
Phorest uncovered the mysterious world of audience cloning and how to target that top 1 per cent of your best clients and drive more of them to your salon throughout every aspect of the annual 'coming together of like minds' but with never done before executions.
"This has never really been done in our industry – we know that big companies like Nike use audience cloning but we are the first in this industry and we (salons) are not leveraging the tools like some of the other businesses are," Ronan said.
"As salons we also need to start moving out of just organic content and into the paid world and make sure we are using the information we already have into platforms where people are like Instagram so it cannot be copied anywhere else," he said.
For those that didn't attend the additional 'Inside Phorest' afternoon guests took to the Dublin Exhibition Centre for one of the biggest days in salon industry conference history, an introductory speech by brand founder Ronan followed by the first of the inspirational guest speakers, Marcus Allen, after the Bohemian Rhapsody wake-up call obviously!
As the first guest speaker, Louisiana-born, Marcus Allen was the man behind the phenomenal growth of Urban Retreat in London's famous Harrods — possibly the largest single-unit salon business in the world, with 220 staff, 11,000 services a month and an annual turnover of £12.5 million. For Phorest it was all about making the Summit a leader in business beyond the brand by providing a calibre of speakers many salons would usually not be able to have access to
He has now directed his energy to The Refinery Men's Grooming salon in London's prestigious Mayfair, from one salon to an international brand. As motivational as insightful Marcus was the perfect opening speaker to tap into the why that drives salon owners to achieve a greater level of success and ultimately make something go from a start up to a globally recognised phenomenon – what every salon aims for in business today.
Following Marcus we heard from Pamela Laird, the founder of Moxi Cosmetics, a now well recognised beauty brand since her appearance on the UK's The Apprentice and one of her first innovations as a liquid filled cotton bud. Having The Apprentice really pull Pamela's business apart she spoke her need to mix her passion and what she knows best with a higher level of business acumen – taking into account that 66 per cent of new businesses fail in the first two years.
Other speakers included Jamie Dana an educator who helps hairstylists have a business and profile they love, Ken Picton, owner of the award winning Ken Picton Salon offering full services including dining options, Stefanie Jackson salon owner and generational leadership expert who touched at the heartstrings of the challenges we face personally that affect our professional life and how important it is to find our happy medium, Millie Kendall, CEO of the British Beauty Council and Retail Maven, and an 'on the couch' style presentation with celebrity hairdressing and founder of product empire, Christophe Robin.
The three workshops hosts included our very own Australian legend Kristian Tognini, who spoke about maximising efficiency in business through the 'Russian Brothers' approach with what we need 'morov' 'lessov' in business and was joined by Phil Jackson, Salon Owner and Consultant and Ryan Power – Beauty Business coach and numbers driven marketing expert.
"Australian salons are the best retailers in the world. We have grown the Summit over the past five years and we want to hold more frequent workshops and seminars in individual countries, even in Australia to ensure we are constantly talking about what's next in business," said Phorest Head of Marketing Connor Keppel.
Although above all the technology and strategies that were delivered by the bucklet load at the Summit and that improve our daily practice, some things have not changed and that's the fact that salons and spas are one of the very few spaces that still provide personal connection. With a pub crawl for some delegates, a final party at a leading Dublin nightclub and networking opportunities it was Irish hospitality in full swing proving yet again its knowledge that we share collectively that makes the biggest difference to our daily lives.
From the notion of a small idea growing from a seed into a Phorest of possibility – Let's Grow together!
Information on the 2021 Summit will be released soon at www.phorest.com