Wrapping up day one of Salon Melbourne this year, Redken's superstar experts took to the stage for an evening of colour demonstrations and inspiration as part of the Redken Color Obsession 1.0 tour.
Held at the Melbourne Convention and Exhibition Centre on Sunday 23rd March, Redken's brilliant line up including Philip Barwick, Rachel Busby, Richard Kavanagh, Michael Kelly, Vincent Nobile, Justin Pace, Dmitri Papas and Kristina Russell took the limelight to present the latest in colour innovations and techniques.
The brands new colour range, Splashlight featured heavily throughout the presentation delivering ahead-of-the-trend colour looks such as Vincent Nobile's 'new ombré'. Inspired by the streets of New York, the new ombré is a fresh take on the trend featuring three brands of colour which has the effect of a spotlight hitting the hair.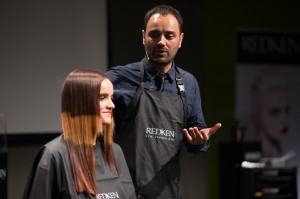 Vincent Nobile demonstrating his 'new ombré' on stage
Splashlight was also the colour of choice for Kristina Russell's 'Starburst' colour look which simulated a 'halo' effect on the hair with colour that blended deeply from the roots to the tip.
The presentation was not short of cutting and styling techniques with beehives, short crops and teased lengths all walking the runway. Speaking of runways, Richard Kavanagh recreated the intricate thatched bamboo style he created for the Alexander McQueen Fall Winter '14 show at New York Fashion Week earlier this year.
Kristina Russell recreating her 'Starburst' colour look on stage
Brimming with fresh, unique and innovative styles, there's no doubt the Redken Color Obsession Tour the inspired hairdressers beyond the exhibition walls to recreate and experiment with their obsession with colour in the salon.
For more information about Redken 5th Avenue NYC visit www.redken.com.au.
Click here for Styleicons|TV.