If you want to improve, you should learn from the best – as was probably the mentality of the fortunate guests who attended The Sessions, with Renya Xydis and Cloud Nine. Usually found backstage for shoots and runway shows at home and abroad, Renya took time out from her busy schedule to share important hair and business tools and teachings.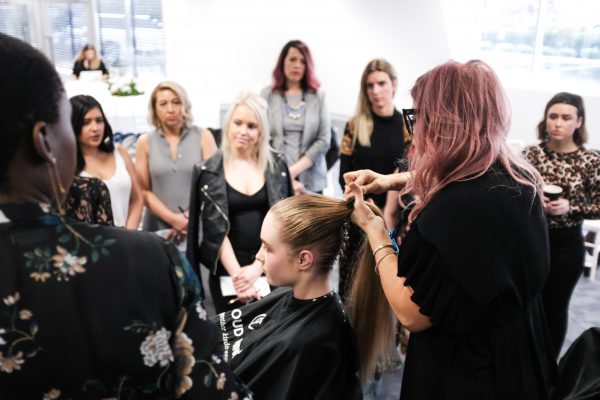 The intimate workshop focused on topics such as building and maintaining a successful salon, juggling a creative career, engaging and growing a clientele, and how to market your salon in the salon space to gain a strong following. Renya's @valonzhaircutters Instagram page boasts over 60,000 Instagram followers avidly watching her dynamic session styling posts and activities, a truly inspiring account for hairdressers to learn from.
Renya also completed editorial looks in person as a showcase for attendees. The looks included complex skills such as hair sewing, difficult sectioning and braiding techniques and unique hair ring accessories, all of which Renya has become renowned for backstage.
With editorial and business insights that can only be collected through an incomparable career, time with Renya proved invaluable to guests. Jump at the opportunity when it next arises.
Achieve one of the hero looks from the day, with the how-to below:
1. Straighten all hair using the Cloud Nine Wide Iron then using a tail comb, part hair starting from the middle of the right eye to the centre of the crown and down (right) towards the neck behind the ear.
2. Within the smaller section, moving from the centre part, down towards the ear, part hair into 1.5cm sections, pinch toward the back of the head where the section ends and using elastic strands from underneath tie knots. (Cut excess strands flush with hair).
3. Section next layer, pinch again and using a fine comb, brush the hair coming from the elastic.
4. Spray remaining hair with a heat protectant and use the Cloud Nine Wide Iron to smooth hair to blend.
For more information visit haircareaust.com
Click here for Styleicons|TV.