Salon group Rokk Ebony were at the centre of Melbourne Spring Fashion Week: Curated last month, styling twenty models for the Collins Place catwalk.
Stylists from both Rokk Ebony and Rokk Man Barbers traded their usual roles backstage in editorial shoots for a backstage pass behind the runway, as they created hair to complement both the racing and party season. Rokk Ebony was the only salon with a stand-alone event at the prestigious fashion week.
"Silhouettes of the 70s have been broken down and reformed with more structure and techniques, but the mysteriousness of glamorous, unkempt looks is still evolving too," Rokk Ebony Creative Team member Charlene Fernandez said. "The collection can be customised to suit all women but the signature looks for the season include the Faux Crop, Boho Curl, Dishevelled Pony and the Faux Bob."
Aside from watching their looks enthral the crowd from backstage, Rokk Ebony were centre stage throughout the day as well. The team demonstrated two intricate, on-trend looks live, showcasing how to create the ideal Side Tie and Faux Bob.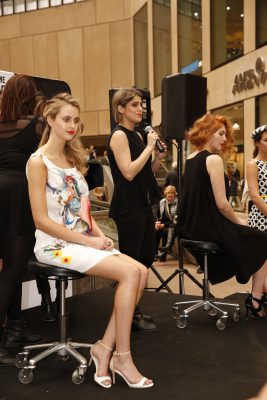 The runway featured new outfits from Collins Place stores including Boxt Jewellery, Digbys, Feathers, Hedrena, Herringbone, Jacqui Fernandes, Maggie T, Meredith, OPSM, Origèn, Seed and Wittner.
The racing season is well and truly underway.
Watch a video of the event below:
For more information visit rokkebony.com.au
Click here for Styleicons|TV.