Melbourne salon SOHO HAIR Co recently relocated to a larger, more modern space just around the corner from their old shop in Essendon. Owner Joseph Vincenzino recently caught up with INSTYLE to tell us about the new salon — which has been designed using L'Oréal Professional Products' 'Salon E-Motion' concept — his passion for hair, and his journey in the industry, writes Tam Allenby.
Opening its doors in 2009, SOHO started off as a one-man show. Then only 22 years old, Joe wanted to create a warm and welcoming space where clients could take time out, relax, and walk out with a hair style that was perfect for their lifestyle. And even though SOHO has grown to hold more chairs and more staff, and has also moved onto to a larger space nearby, the friendly vibe remains.
The new-and-improved SOHO was designed using L'Oréal Professional Products' 'Salon E-Motion' initiative, a new program that was first rolled out in Europe in 2015. With the industry facing a variety of economic challenges in recent years, including a decrease in the number of new salon clients and frequency of visits, the program places the focus back on the wants and needs of the consumer.
According to the brand, participating salons are reinvented in terms of design, services and experience, in a way that 're-enchants the client's emotional journey' and 'reinforces the salon's attractiveness'. Seven key moments in the consumer journey — stretching from the moment they arrive at the front door, to checking out and rebooking — are focused on, each undergoing small or significant changes to improve the overall experience.
For Joe, the initiative has helped to update and refine SOHO. "Everything my clients didn't have at the old space, I brought in here," he explains.
"From the reception counter, the experience of the client all the way to the end — having their hair cleeansed, the consultation, the way we recommend products at checkout, to rebooking — is an individual experience."
"For example, the hair basins were right behind the reception counter at the old salon, so people walking past would just see someone with the phone in their ear. So I just wanted to create a basin area completely opposite to that, so it's in a dark room towards the back of the salon."
"Our consultation area is also private… so they feel comfortable telling me how they want their hair. Also when they're sitting having their hair done, the mirrors aren't full length so they're not constantly staring at themselves the whole time, and they're not sitting next to anyone — the chairs are all angled."
These changes will only add to SOHO's already loyal clientele, which includes both locals and old clients from Joe's earlier days. Like many others, he started cutting hair as an apprentice at the local salon straight out of high school, but was soon offered a job working on cruise ships in Europe. After further work and training in London and New York, he came back to Australia to open SOHO and hasn't looked back.
"I guess I didn't have an expectation, it was just… if it didn't work out I would go back to working for someone. But it worked out obviously! I remember on my first day just standing out the front with flyers, and now I've built a brand," he reflects.
The salon has a colour focus — stocking L'Oréal Professionnel and Kérastase — and attracts a clientele that Joe estimates is 90 per cent female and mostly in the 30 to 60 year age bracket. Even with an older, mature client base, he still believes that social media is a big part of running a salon in the 21st century.
"I've received so many clients to sign up to Facebook and Instagram, while they're here in the salon just to follow us. [I post] just so they know what we're doing in the salon, things that inspire me, but I'm a bit of a perfectionist – I have to do more photos in the salon but if things don't look right I won't post them up."
He also explains that SOHO's presence on social media is more for existing clients, rather than an advertising or marketing strategy. "Most of our clientele base is word of mouth, and I believe that's the main way you can maintain a client [relationship]. We don't really do marketing or anything on social media."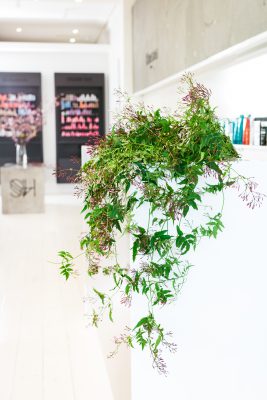 Still, with over a decade of cutting hair and eight years as a salon owner already under his belt, what keeps Joe motivated?
"I can't really see myself doing anything else! I just love it; I always wanted to be a hairdresser from a young age. I haven't even thought of [doing anything else]," he says.
Despite employing three other staff, Joe is also adamant that he'll keep cutting hair in addition to owning and managing the sho. "I'll never not work on the floor," he insists.
As for the future, Joe says that he's focusing on the day-to-day. After all, he only moved to the new place in the last few months, and he's just as busy as you'd expect. "I never really plan anything, I just make it happen and enjoy it as it comes. That's a hard question, I haven't thought about it — I haven't had time to be honest!"
For more information visit sohohairco.com.au
Click here for Styleicons|TV.