Sitting at The Loft you may feel like you've been transported to a New York City apartment, with bright lights, modern finishes and an intimate feel that would allow you to feel at home even in the city that never sleeps, but you're actually sitting worlds away, at Australia's best kept secret, Launceston, Tasmania. The Loft combines an important mix of creative business ideas, a penchant for privacy and that personalised touch.
The four and a half year-space works on a freelancer model, with every person who rents a chair considering themselves self-employed and bringing their own important talents (and clients) to the brand. Built on the first floor of a recently reconstructed warehouse building, the salon is set on the fringe of the CBD, enough to ensure convenience, while creating more privacy for clients. This is especially true due to its upstairs setting and intimate, apartment feel.
"It's like a loft apartment, really its quite open, its spacious, and then we wanted to also have natural products, knowing the way that the world is going and because we live our life at home like that," said Salon Co-Owner Grant Burling, who co-owns the space with Kirby Manion. "We needed to give clients a reason to come to us as well and a reason to stay – not only by offering great haircuts and colours, but by going for a natural approach."
Enter Natulique, the brand's exclusive colour product partner and major retail range, one that works specifically with the salon's organic ethos.
"You have to work with a company that you believe in and where they are going," Grant confirmed.
The products complement a range of premium cut and colour services, proudly kept in line with the latest trends, but offering looks that range far beyond them. The diverse clientele is specific to each of the five individual freelancers.
"Every stylist attracts a different sort of clientele, but generally we only employ people with over five years of experience," Grant said of the system. "We like to make sure that they have been in the industry for a while and they know what they are doing."
This results in a professional environment that extends beyond cut and colour, also ensuring premium customer service, as each freelancer caters to their client from the beginning to the end of the appointment.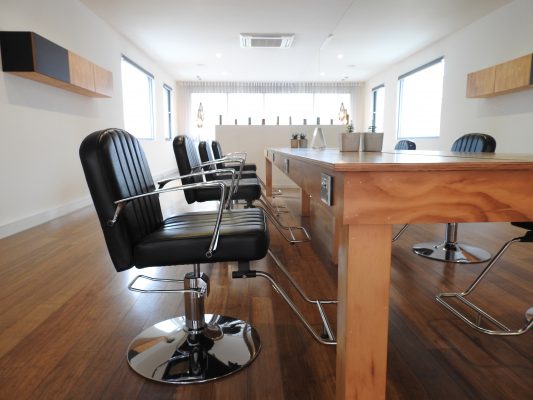 "We only book one client at a time so our whole attention is on that person," Grant shared. "All our staff meet and greet their client, sit them down, offer them the refreshment menu, make their coffee, shampoo their hair and rinse their colour. We're keeping out of the business where there are five people working on one client."
Grant's 25 year salon career led him through Tasmania, to Melbourne, Barcelona and London (not to mention a stint as a cruise ship stylist), where he worked with big-name stylists and salons including Charles Worthington Salon in the UK and the famed Rakis on Collins Street in Victoria. Grant's understanding of global salons large and small gave him the unique know-how to craft the exact salon he wanted – and his travels allowed him to make it feel intimate and international all at once.
"The lighting is really important as I have worked in salons before where there are spotlights right over the client's head, which give more shadow lines and make every colour look red," Grant revealed. "We have our lighting offset so no client actually sits directly under a light, we obviously use cooler lights in the salon as well and we also have a lot of natural sunlight. At each end of the salon is a window, so we have all the morning sun on one side and all the evening side on the other."
"The main salon work bench is in the middle that way the sun is not directly under the client," he continued. "It's great for weddings – photographers love it here because it's like a big light box for them!"
The long, centred main table, sophisticated black chairs, calming white and pale blue walls and modern wooden floors and features finish the main space, while a small private section off to the side continues The Loft's preoccupation with privacy – all in all, allowing clients to feel at home.
Formed through travels around the world (and the seas), situated just far enough away from Launceston's CBD, with a New York-aesthetic and services unique to each individual hairdresser, The Loft can't be pinned down by postcode. A truly global space with a focus on natural hair, it's worth heading down south to understand it for yourself.
For more information visit theloftsalontasmania.com
Click here for Styleicons|TV.