Sydney Fringe Festival is bringing art and culture to Sydney, and how could that be complete without showcasing the creative, Avant Garde side of hairdressing? Stevie English Director and Sustainable Salons Australia ambassador Shaun McGrath has put his hand up to show off hair and wiggery in all its artistic, unique glory, creating a series of wigs to be displayed at Broadway Shopping Centre through the month of September.
"The exhibition has eight wigs," Shaun shared of the show. "Four of which were made for the festival out of recycled elements and found objects, and then we have the ones we made out of things we found in the shopping centre environment. So we have one made in conjunction with Nike, they sent me a few thousand dollars' worth of shoes which I just destroyed and turned into hair. We did a Mohawk out of popcorn, we did a something akin to a Pacific Islander king headdress out of wooden spoons and an afro made out of hundreds of lipsticks."
Understandably, the collection took Shaun, who largely worked on it alone with some help from his assistants, "upwards of 400 hours". The worth ethic, attention to detail and creativity is immediately clear upon seeing the works of hair art.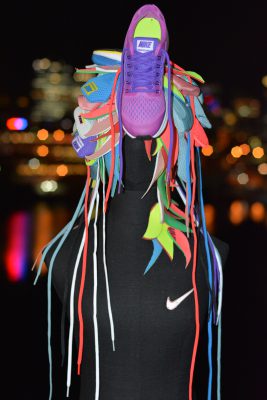 The show also hosts a playful event on Thursday nights, where patrons can take part in a photo booth with filters of the wigs, to see what it might look like to exist with a very impressive popcorn Mohawk or lipstick afro as their new hair look.
Shaun was the ideal candidate to create these unconventional hair pieces due to his work with Sustainable Salons Australia, which repurposes recycled material and thinks outside of the conventional hair box all the time. He recommends the exhibition to any and all hairdressers looking to find fun and inspiration in hairdressing beyond the salon, with a frivolous and ambitious project set to motivate you artistically as we head into awards season.
Head over to Broadway to check it out – and as tasty as that popcorn looks, please be advised it is not for consumption.
Click here for Styleicons|TV.