Some talented Aussie brands are hugely supporting our national salon industry and Spring Spa Wear is an Australian brand that offers this professional guarantee to hairdressers when it comes to salon uniforms. The brand builds on their expertise as beauty and salon professionals to create unique, quality, functional and wearable options that salons will not only love, but truly need.
All the uniforms offered by the brand are resistant to bleach stains, wax and creasing, allowing for easier maintenance and cleaning. Uniforms are made in Brisbane by a formidable group of 10 Australian women, with a company that has been in the salon uniform industry for ten years and uses the benefit of their experience for constant innovation and quality. Each uniform is carefully stitched and tested in a weeks-long program to ensure durability, functionality and style.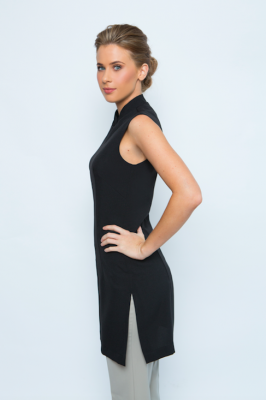 "Our uniforms are tried and tested for real-life wear. We've been in your shoes before, so we get it," the brand said. "We know how important it is for your uniform to be functional yet stylish, so we've taken the steps to ensure you are provided a uniform that is strong and durable."
The uniforms are pre-shrunk and made of a unique blend of fabrics to ensure their resistance to creasing, stains and washing hassles. They require no need to iron, are fade-resistant, offer a light and airy feel and, importantly, are hair resistant too. Bi-directional stretch fabric allows for freedom of movement for uninhibited salon styling skills and comfort.
You and your salon team deserve to feel comfortable, confident, professional and stylish every day you walk into the salon – tick all the boxes with Spring Spa Wear.
For more information visit www.springspawear.com.au