The legendary Anthony Mascolo and his International TIGI Creative Team hosted an intimate breakfast at Sydney's luxurious Park Hyatt Hotel on August 22nd. There with his wife, Pat Mascolo, family and international creative team, the group spent time with media and special guests over pastries, coffee and scrambled eggs.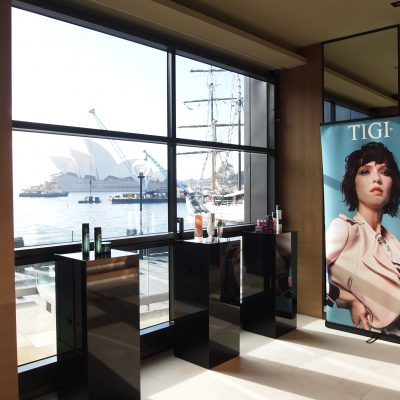 The TIGI Breakfast at the Park Hyatt
Overlooking a gorgeous view of the Sydney Opera House, the room was decorated with TIGI campaign imagery, as well as vibrant TIGI products adorning the walls and tables. Anthony took to the stage for a personal interview with Beauticate Editor Sigourney Cantelo, to be eventually joined by Pat and his creative team, including Maria Kovacs, the TIGI European Session Director, Christel Lundqvist, TIGI's Global Technical Creative Director, and Akos Bodi, the TIGI European Creative Director.
Pat Mascolo, Maria Kovacs, Akos Bodi and Joshua Mascolo
Anthony discussed his long and established hairdressing career, including career highlights of being named joint UK Hairdresser of the Year with Trevor Sorbie. The team discussed the brand's close relationship with the fashion sphere, offering insights into the fast-paced world of creativity and session styling at TIGI, which will be put on show at next year's World Release in March.
Anthony Mascolo answers questions on stage
After teasing a dynamic new range to be released later in the year and treating the guests to upcoming campaign videos, the team finished the breakfast by mingling amongst the crowd and answering follow up questions personally.
Anthony and the TIGI team made the most of their short-lived stint in Sydney, raising anticipation for next year's World Release and exciting product launches coming soon.
Tickets for the World Release Show on March 8 2015 and the World Release Education Seminar on March 9 2015 are available through Ticketmaster here.
For more information visit www.tigiprofessional.com
Watch a preview video for the Sydney World Release below.
Click here for Styleicons|TV.