Halloween 2016 has been and gone and between recovering from the weekend and surveying our collection of candy (what, you didn't go trick or treating?) we've found time to analyse the best celebrity hair creations and transformations this year round. Extravagant wigs, all-new colours and so, so much glitter, these 10 hair looks really caught our eye.
Jenna Dewan-Tatum
With pastel colours and sparkly hair, Jenna's unicorn look was a personal favourite. We have to commend anyone who endeavours to become more glitter than person, good luck getting that out… ever.
Khloe Kardashian 
We know anything the Kardashians do catches on, so could we be seeing more metallic silver hair and… glassy eyes? Khloe's take on the X-Men's Storm was both spot on and terrifying, and her bold (and kind of wearable) silver hair was a major holiday winner. Speaking of influential Kardashians…
Kylie Jenner
Kylie seems to change her hair on an almost weekly basis, so she was never going to let Halloween pass her by. While Christina Aguilera's blonde-brunette hybrid hair from the early naughties Dirrty video is iconic, we're sort of hoping this is the one Kylie trend that doesn't catch on.
https://www.instagram.com/p/BMLe7pBBzEg/?taken-by=kyliejenner
Bette Midler
Bette recreated her Hocus Pocus character but exaggerated the styled-high, orange hair with this incredible/unlawful hair creation (depending on how you look at it).
Kelly Ripa and Jerry O'Connell
These two just get points for following our costume advice – we totally gave them the idea, right?
Ellen Degeneres
On that same point… We see you Ellen.
Leona Lewis
Credit to Leona for transforming both her hair tone and her skin tone into a silvery-purple colour to be this… alien? Fortune teller? We're actually not sure.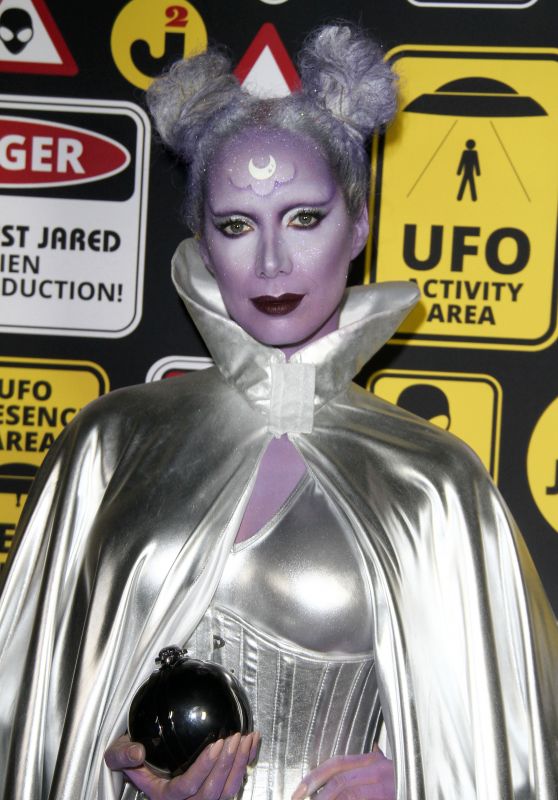 Alessandra Ambrosio
The Victoria's Secret model gave Halloween queen Heidi Klum (who dressed up as Jessica Rabbit last year) a run for her money, with a bold red wig and slinky red dress. We think the colour actually suits her.
Katy Perry
This is less a hair change than an entire person change. Yes, that's Katy under that Hilary disguise, with the blonde wig, prosthetics and requisite pants suit that make her unrecognisable. And while we're getting political…
The Kid Who Dressed Up As Donald Trump's Hair
Yes, we know he's not technically a celebrity (although he probably should be), but no Halloween hair article would be complete without the 10-year-old who dressed as Donald Trump's hair. This kid officially made Halloween great again, and our (giant) hats are off to him.
Happy Halloween!