With a team of six in the wig department, headed by Stefanie Paglialonga, the hands behind the scenes for the crown of the Sydney theatre scene is about more than just theatre, think eye-popping costumes and hours of intricate hair work on every wig and costume, writes Cameron Pine.
Varying genres exotic bright and period costumes all play muse in an Opera performance for a hair and make-up department of notable creativity, and at the forefront of the scene is out very own Sydney Opera House harbourside enclave of creative creators and stylists.
This June Opera Australia celebrated its 60th anniversary by launching the season with a new production of John Bell's Carmen and a host of other classic favourites soon to follow. Expect to see an all Australia cast bring Russian gem, The Love for Three Oranges to life with tales of personal sacrifice both on-stage and behind the scenes from all the crew, hair and make-up teams to make it all happen. Towards the end of the season the Du Ponte trilogy meets its final chapter with David McVicar's Cosi Fan Tutte and drama will reach new heights with the Verdi classic Simon Boccanegra.
Head of the wig department Stefanie says it takes patience and more than just hair and make up skill to work on theatre. "You have to be quick to adapt, be creative in your thinking and be able to find a variety of solutions – sometimes last minute," she said.
Stefanie has been with Opera Australia for three years and has had a very interesting career having worked on top ranking shows including Tarzan as well as at the Opera House in Bonn for nine years, Germany. Creating all the wigs from scratch for all of Opera Australia's performances, human hair is the sourced from Europe is the most common hair used. To produce a variety of wigs – dozens per show in fact, different shades of hair is weaved into wigs that can take over an entire week to produce, and that's just for one show. Much care is taken to hand stitch at slightly different angles to ensure, "The most natural as possible look. This is why machine made wigs looks fake, they have no colour variation and the hair tends to fall in an unnaturally uniform fashion," Stefanie said.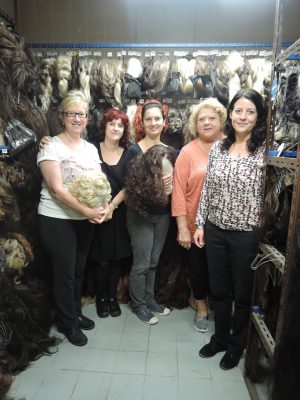 With a storage room full of wigs and custom designed pieces to be used and reconditioned for each show, there's no end of challenges and creativity ins-store – the ultimate satisfaction is seeing the show and media following of what is a perfectly executed visual production with attention to detail like no other.
"Every production has its demands and you never know what challenges you will face on each production. Thanks to my amazing team we always achieve what has been asked for."
Considering there are no schools that teach how to make wigs from scratch, it's a process that can only be learned by being employed as a wig maker – where styling skills really help.
"All of our hand-knotted human hand wigs are custom made to measure and fit each performer perfectly – we can never use a factory made wig, some shows we can have up to 70 wigs and have some on standby for an understudy or cover," Stefanie said.
"We work as two distinct teams (five wigmakers) and the performance hair and make-up team. The most satisfying aspect comes when we can see the final product after hours of intense labour the character really comes to life on-stage. It all starts with working closely with the designer to begin with from idea and right through the rehearsal period.
With costumers ranging from 50s cool to modern-day, there's no shortage of hair and make-up inspiration on hand at Opera Australia's celebrated 60th season.
For further information visit opera.org.au
Click here for Styleicons|TV.