Pushing the boundaries between simply edgy and all-out avant-garde, the UK F.A.M.E. Team treated Australian audiences to a unique British aesthetic. Self-consciously dark and moody, the show played with images that conveyed toxicity, through black, industrial outfits, bold, unusual make up and hairstyles that showed off a high calibre of young talent. Watch the exclusive video below.
Acid Reign by the UK F.A.M.E. Team
The Fellowship for British Hairdressing's Fellowship Academy of Merit and Excellence award is an annual achievement, and this year that honour was given to Leigh-Ann Regan from Kyle Beasley Hairdressing, Simon Tuckwell from Zullo & Holland, Dafydd Rhys-Thomas from Ken Picton and Ellenora Dean from Michelle Griffin. The team is offered opportunities including time spent with some industry legends, photo shoots and, in a two-week trip to Sydney, a stint at Hair Expo.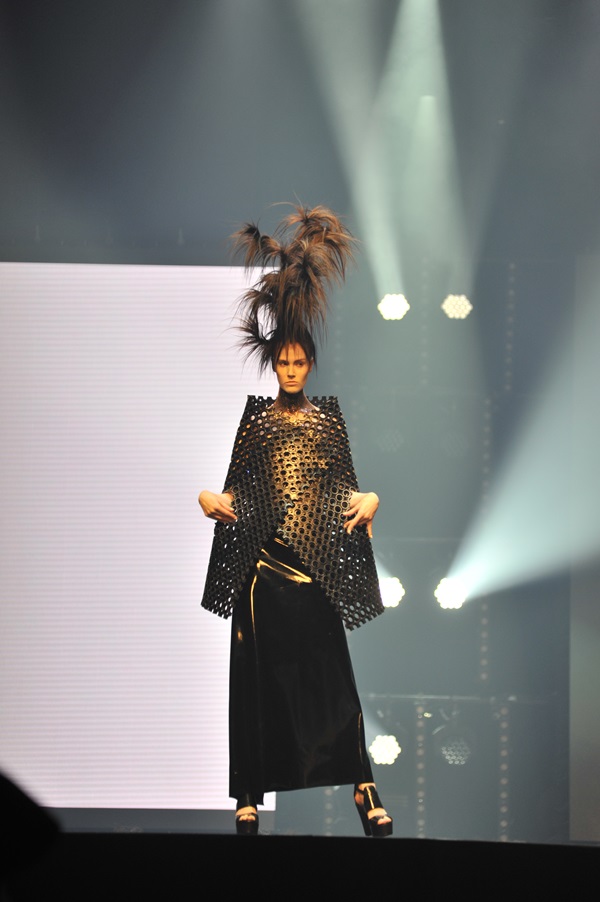 The team merged the edgy and the avant-garde at GenNext
The GenNext gala was a chance for them to unleash their inner creativity, playing with hair of all shapes, styles and monochromatic colours. In a muted palette that consisted mostly of blondes, brunettes and auburns, the show was memorable for bold, sectioning techniques, avant-garde fashion and black lips painted well outside the lip line. The array of different styles was definitely original and unique to each stylist's unique artistic vision.
"We all like to work very similarly but we all have different strengths," shared Tuckwell. "We all liked this kind of dark and moody idea, which was our previous collection, but we wanted to bring some colour into it, which is where we kind of looked at going into this toxic, acid, neon rain. We had to make sure we all coincided but we wanted to show our different elements because we're not all the same, and that's the point of the team, to fit in with each other."
For more information visit www.fellowshiphair.com
Photography by Jamie Carroll
Click here for Styleicons|TV.