Hong Kong is a city that spans across islands and this year, for the first time, its premier hair and beauty expo Cosmoprof Asia, did the same, operating under the mantra 'One Fair, Two Venues' with two major beauty destinations for the tens of thousands of visitors who travelled there, both locally and abroad. What followed was a five-day networking and sales event not defined by borders.
For the many international visitors, Cosmoprof Asia started the second you stepped off the plane, with signs pointing you the first airport-adjacent venue, AsiaWorld-Expo. This venue focused on the production side of the industry, including the latest innovations in packaging, machinery and materials, with the Italian-led Lipstick factory providing a particular highlight. Moving further into the city, the Hong Kong Convention and Exhibition Centre turned its attention to finished products, showcasing the latest in hair, beauty, nails and spa. The centre sits on the harbour in Wan Chai acting as a pinnacle building in the city's Guinness World Record-holding nightly light show when viewed from cross-harbour Kowloon. Utilsing both cross-city venues, the expo captured Hong Kong's diverse culture, allowing visitors to experience the territory from all angles.
While the theme highlighted the expo as the go-to beauty destination for Hong Kong in its entirety, the event also presented the international beauty industry as a bona fide force, acting as the epicentre of a beauty community that continues to cross borders and expand. Large signs bearing differing country names signalled every door within the multi-story Hong Kong Convention and Exhibition Centre with each industry section further delineated by country.
The emphasis on global beauty is understandable when looking at the international numbers that congregated at the expo, making it feel like so much more than just a feature of Hong Kong. The expo welcomed 78,818 trade visitors from 129 countries and regions (representing a 21 per cent increase over 2015), and hosted 24 national and group pavilions with stands including those of Australia, Belgium, Brazil, California, China, France, Germany, Greece, Hong Kong, Israel, Italy, Japan, Korea, Poland, Singapore, Spain, Switzerland, Taiwan, Thailand, Turkey, UK, USA with inaugural pavilions from Bulgaria and Latvia.
Exhibitors rose to 2,698 brands, an increase of 650 from last year, hailing from 49 different countries and regions. Within this considerable international focus, Japan was named the country of honour and celebrated with a cocktail reception and makeup show by famous Japanese makeup artist Go Tanabe, highlighting Japan Beauty Week.
"Cosmoprof Asia 2016 has had 8 per cent more companies come from Asia, while Korea has a 22 per cent increase, Japan has a 24 per cent increase, exhibitors from the European union are up by 4 per cent, Australia and the Oceania region have gone up by 27 per cent and mainland China has increased to 858 exhibitors, the biggest exhibitor region in 2016," explained Michael Duck, Executive Vice President, UBM Asia Ltd. "The show now occupies close to 100,000 square metres of exhibition space in both venues, a 17 per cent increase over last year. The participation of so many countries and group pavilions at Cosmoprof Asia 2016 is a clear sign of the importance of the show globally."
Among the aisles, major trends emerged in every beauty industry, where developing innovations in hair electricals and salon furniture took centre stage – straightening hair brushes, with updated professional focuses proved a particular tool trend. Updated beauty technologies in hair removal, varied lash extension services and new nail care technologies also pervaded the scene, while the 'discover trends' sector centred on the burgeoning industries of men's beauty, natural and organic beauty and baby care. Sections in the expansive five-story Convention and Exhibition Centre were delineated into Cosmetics, Beauty Salon, Hair Salon and Nails and Accessories, giving each space its singular, professional focus. Beyond the products, more than 30 education session and seminars from speakers hailing from all around the world provided valuable insight for global attendees.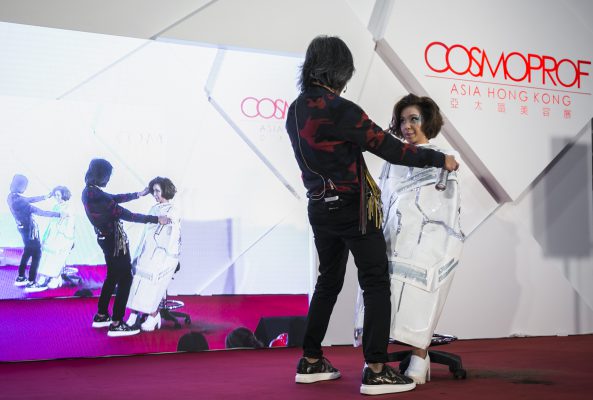 Australian brands made the nine-hour flight to seek out new products and methods, and bring their own products to the attention of distributors in Asia, Europe and the UAE. As the beauty industry expands, Cosmoprof Asia and its annual sister-events in Bologna and Las Vegas seek to bring the industry closer, ensuring heightened international communication and becoming an epicentre of trends, innovations and education to unite the industry three times a year. For a beauty sphere that refuses to slow down, unity is more important than ever, and while Cosmoprof Asia operated under the '1 far, 2 venues' moniker, collaboration was as its very core.
For more information visit cosmoprof-asia.com
Click here for Styleicons|TV.