Joey George is known in some high-profile places – for example backstage at New York Fashion Week and on set with Lady Gaga, where he recently styled her European Tour. He's styled for Tom Ford, Zac Posen, in Vogue and Harper's Bazaar¸ as well as for a myriad of other runways and international publications. He's also a part of the Global Oribe Education Team and, as such, Oribe brought him to Australia to imbue our national hairdressers with his insights – and may we just say, thank you.
Joey stopped by in both Sydney and Melbourne for two Ateliers, and we joined him in Sydney at Sun Studios on October 10th for the full-day event. Speaking to an enthralled crowd and presenting two alternative looks, which stylists would then recreate themselves, Joey showcased the benefit of his years of editorial experience.
The first look was based on one of Joey's recent cover shoots, using braided details, binding, pinning, teasing at the roots of the hair and additional hair accessories to create the strong shape in a sky-high oblong-structured look. Further cranial bindings, a square section at the crown and seamless braiding to make the ends of the hair disappear were paramount in creating this futuristic, tribal-inspired look. While the look itself may not exactly be ideal for the salon (although we do expect to see elements of it in your next shoot), Joey imparted universal knowledge within the look, such as the teasing technique that can make maintaining any style possible.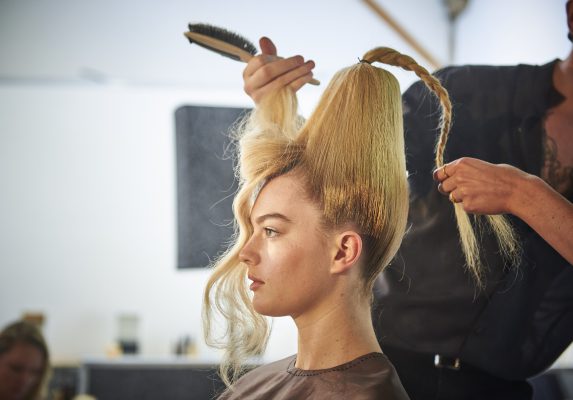 Speaking to a trepid audience (who later mastered this look themselves); Joey highlighted the look's most important facet – texture. As such, Oribe's three new texturising products, the Matte Waves Texture Lotion, AirStyle Flexible Finish Cream and Star Glow Styling Wax, proved vital. All packaged in a muted gold hue, the range offers diverse results, with the Flexible Finish Cream delivering a satin finish, the Styling Wax creating shiny texture and the Texture Lotion delivering beach-style waves. In the first look's case, the consistency of the hair was meant to feel like fairy floss, a difficult texture that Joey taught the audience to master.
Joey's second look centred around the use of hair pieces, another area of expertise for Joey who recently opened his own wig atelier in New York. This equally Avant Garde style was inspired by King Kong Magazine, utilising extension pieces and faux wig wraps to make a veil-like structure while deconstructing the techniques learnt in the previous style. Stylists also created this second look (again, only on real models) and then each took part in a photo shoot to close the day.
The very next night Joey was in Melbourne for a more casual affair, with the Melbourne atelier taking place in the evening at a studio on the South Yarra. Joey presented the same two creative looks and took questions from the audience over the requisite bubbly.
Two big days in Australia were enough for our national stylists to become a little wiser with the inimitable input of Joey George. We hope he'll hurry back.
For more information visit roguebeauty.com.au
Click here for Styleicons|TV.