There was one word at the core of every facet of the 2017 Ozdare Retreat – it was in many of the speakers' major points, which reminded attendees that culture starts at the top, and if you haven't designed a company culture to be proud of, you're already losing. It was in the recreational activities and meals that saw salon owners and hairdressers network and become fast friends, or pick up on old relationships made at past retreats. It's entrenched in the Ozdare DNA, from moment one of intense, business-focused days, to the last straggler finally leaving the ongoing party that was the night time events. For three days in Byron Bay with the Ozdare Retreat, culture was front and centre.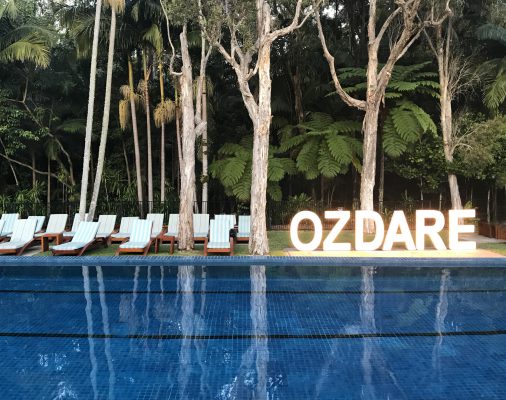 With guests arriving to the Byron at Byron resort, nestled deep in the rainforest for a unique level of relaxation you can't find in many other places, the party was already starting. An arrival lunch, leisure activities and Welcome Drinks overlooking the luxurious hotel pool (with illuminated Ozdare letters providing something of a feature) created an excitable, frenetic atmosphere that spoke to the level of passion and comradery in the Ozdare family.
Those new to the Australian company, which is led by brands such as KEVIN.MURPHY and ELEVEN Australia, and also distributes Ecoheads, Cezanne and Blondpro, were offered a taste of what's to come, emboldened by the scores of salons only too happy to come back to re-experience luxury, education, networking and relaxation all packed into just three days.
As the first speaker bright and early on Sunday, Google Creative Director Tara McKenty summed up that culture immediately – and explained why it's so vital to attracting talent, retaining staff, ensuring innovation and propelling creativity. These points are all true for your salon, and the example was palpable in that very room.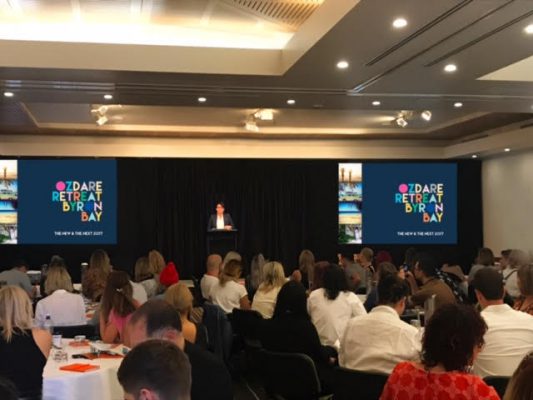 Tara explained the importance of being the architect of your own culture and how important it is to actively plan that culture rather than letting it grow organically. She shared insights from Google and its incomparable success, where employees are encouraged to spend 20 per cent of their time pursuing passion projects and filling realistic gaps in the market that interest them and, surprisingly, pranks are commonplace – an example of the fun workplace that makes the organisation so attractive. "Is your workplace fun?" she asked, adding that celebrating birthdays and encouraging office frivolity increases job satisfaction and general happiness. Other key elements to positive workplace culture include diversity, inclusivity, variety and the kind of environment you create for your business.
Key tips included helping your employees to view work and life together, rather than in opposition with each other, the positive notion of offering benefits over compensation and how vital transparency is in your company.
The mid-morning session was a panel discussion, compered by the day's MC Con Frantzeskos (Future Laboratory) and including perspectives from a range of industries, including Amanda Smith (Head of People and Culture, Lululemon), Marita Burke (Creative Director, Mecca) and Rodney Eggleston (Co-Founder, March Studio). The variety of perspectives and level of experience on stage ensured many key insights attendees could immediately take back to the salon – including ideas such as creating a tribe or family mentality, living your culture so that it becomes intuitive and that happiness and satisfaction in the workplace can be contagious. The panel also spoke about client care and recruitment as it has pertained to them in their successful careers in beauty, fashion and design.
Con returned to the stage to round out the day of speakers, focusing on the new age of digital, but giving it a particular salon focus. He spoke about how today's consumer is anxious and overly-energised, due to always being switched on and tapped into the online world. He advised that salons could capitalise on this by reframing their business to focus on wellness, and how a salon service can be a necessary moment of recovery in a world of noise and incessant notifications. He stressed the importance of filtering out unwanted focuses and preventing your clients from feeling overwhelmed in the salon with a minimalist approach to audio, graphics and design, while offering specific wellness packages that complement your clients' lifestyle.
Bookending the day was Ozdare CEO Carlo Gattuso and KEVIN.MURPHY Co-Founder Peter McDonald, who shared their business insights from within the family. The idea of failing forward, of taking these insights and making conscious changes in your salon and the significance of education and communication in salon inspired attendees to take these messages from ideas to practical salon changes.
It was then on the bus and out of the rainforest for a very special dinner that felt more like massive family reunion than a corporate event. Set at luxury Byron Bay restaurant Three Blue Ducks, attendees enjoyed a decadent three-course meal in a rustic setting, often utilised as a go-to wedding venue. Attendees were entertained by an excellent four-piece band that, by the end of the night, had almost every participant pulled onto the dance floor for a marathon dance session attendees didn't want to leave.
The final day was dedicated to entrepreneurship, in a seminar delivered by Eyal Halamish of the School of Life. This interactive workshop had attendees thinking creatively to solve every day frustrations and pitching their own ideas built from their own daily necessities. Key theoretical ideas included the importance of self-knowledge, and an activity was used for participants to identify their own strengths and dangers, the need to take small calculated risks, and the encouragement to take that first step, learn from it and then try it all again. Attendees were tasked with writing down a personal and professional vow, based on what they had learned about business and themselves, which they could utilise and grow from in their lives back home.
"The Ozdare Retreat gave an incredible insight into team culture and creating the ultimate customer experience from likeminded brands and leaders in their field," said Ozdare Brand Director Rob Gattuso. "It was great to see our clients network, engage in the business offering and have fun with our team. The weekend was fluid, impactful and we look forward to another great retreat in 2018."
Many attendees chose to stay on in Byron Bay and spend a few more days in nature to recharge before going back to the salon to evoke real change. No matter when they headed home, attendees left Byron Bay refreshed, inspired and motivated to elevate their business, with entrepreneurship, innovation and culture front of mind and the first facets of the salon to rebuild and work on. They also left with renewed connections, new friends and a reminder that the Ozdare family is more than just a business, it's a company that goes above and beyond to bond salons together, ensure they never stagnate and keep them propelling forward. When it comes to culture, they lead by example.
See you in 2018.
For more information visit ozdare.com
Click here for Styleicons|TV.