TONI&GUY has proven around the world the necessity of adaptability, true care and communication, this year and beyond, and its Australian family pivoted its education offering to showcase these values. Harnessing the adaptability the global juggernaut has shown to move through the challenges of 2020, the team evolved its usual education to an online format, with a headliner national Zoom Soirée.
The event proved and was built on the importance of team and industry connection, despite physical distance. Having been planned as a Franchise Visit from TONI&GUY educators, the travel restrictions required a format change, leading the way for the national conversation to be had as part of the Zoom event. The team used this opportunity to connect with salons in any capacity, rather than postponing their usual education processes.
"We have really looked at the needs of our current staff and those looking to potentially join our group," said TONI&GUY Australia CEO Dennis Langford. "It has become apparent that people are looking at more than just 'upskilling', they are wanting to take a more holistic approach to their career, combining creative with wellbeing and personal growth and development."
This education offering and all education materials are delivered by the 2020/2021 National Education Leaders, a team of strong educators, mentors and leaders who inspire in every facet of growth to truly help the national team develop. The team consists of National Creative Coordinator Jo Smith, National Education Coordinator Jude McEwen, National Technical Educator and Personal Development Facilitator Jack Morton and National Technical Educator and Coordinator Aaron Baker.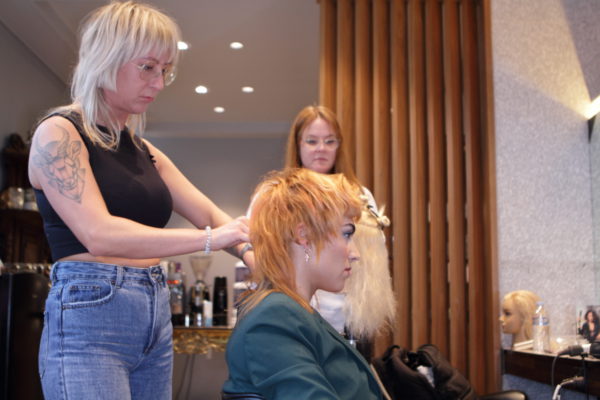 The Zoom Soiree was hosted by Jack, who brought his charisma and energy beyond the screen. Other sessions included demonstrations unpacking technical 2020 trends by Cathy King and Aarron Baker, while Jo Smith in Victoria offered her creative insight on the recent trends of hair fashion epicentre London Fashion Week, through the latest runway season. Attendees gained insight into how London Fashion Week has adapted through the restrictions and challenges of COVID-19, with the unique TONI&GUY lens into their familiar fashion stomping ground.
Other education included Dion Lee Andrew presenting his dynamic editorial insights, including how to craft bold looks in the studio. Maddy Robinson provided the final session, with a teaser of her 'Moving Up' presentation to the position of Technical Director. This inspired the TONI&GUY family by showing the development and influence that can come within the community network with hard work, talent and dedication.
Coming to you from all around the country, the TONI&GUY Australia family proved there's nothing that can really keep them apart – not when education, inspiration, trends, insights and connectivity is just a Zoom call away.
For more information visit www.toniandguy.com.au