When it comes to Fashion Week, it's not just the clothes that draw the eye, and Prema made sure that hair was the centrepiece for the five shows they styled for New York Fashion Week. Led by Prema Creative Director Dale Delaporte, it was gold flakes, neon plastic thread and safety pins creating a metallic Mohawk that stole the runway shows.
Starting with the first show, Manaola, the hair team created a tribal aesthetic to complement the Hawaiian lifestyle brand, adorned with those statement gold flakes to accentuate the bold colours found in the designs.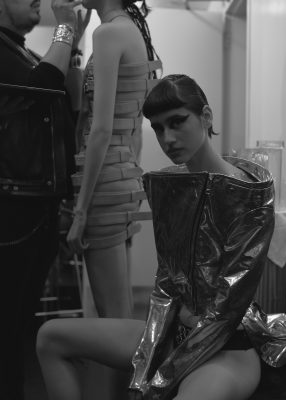 Moving on to Vanessa Bounden, the team created loose, low tied-off fishtail braids in an effort to keep the hair effortlessly chic. This wearable look was paired with a design aesthetic known to integrate social and political issues, this season basing its aesthetic on the female form.
The team then followed up with their third show, creating diverse, enigmatic hair to suit a wealth of global designers at the Oxford Fashion Studio.
The fourth show was Barragan, a designer from Mexico with clothes especially made for the Tumblr generation. Hair was raked back and kept greasy, dirty, piece-y and almost sweaty, to work alongside underground fashion that questions concepts of modern day consumption, fashion, media and pop culture. The show itself drew inspiration from 90s culture, tattoo art and a street aesthetic, and the hair was the ideal finish to this strong conceptual aesthetic.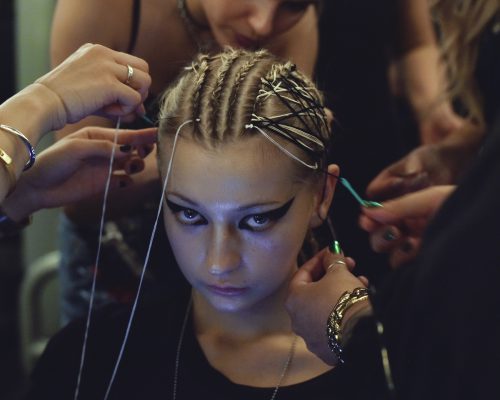 Lastly, the Prema team created their feature looks for Kaimin, for a collection that prized sexuality without appearing vulgar. Working within these themes, the hair look was punky and futuristic, aided by the use of bright thread and safety pins. Working off a clean and sleek silhouette, the looks utilised detailed cornrow and braiding techniques around the head. The models were delineated by their outfits, sorted into three groups that were accessorised with neon plastic through the top, black and white thread through the side of the hair, or a myriad of safety pins for the hero 'metallic Mohawk'.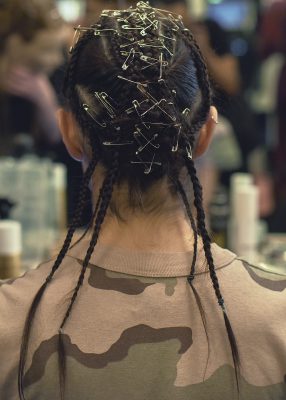 Prema also styled the hair for the show's musical accompaniment, musician Brooke Candy, who was suspended from a bonda-inspired art installation during the performance. The collection, titled Slut from the Future, incorporated these bondage and punk elements, as well as a vibrant colour palette and innovative materials, and the unique hair look fit in perfectly.
Hair fashion at its finest.
For more information visit premalove.com
Images from the Kaimin show
Click here for Styleicons|TV.