Yes, we Australians are sitting in the middle of cold, rainy winter, but we can dream of warmer climates, right? Sandra Faiva of Revolution Hairdressing transports you there with the aptly titled Summer collection – think a luxury, high fashion take on everyone's favourite season, with an Australian perspective and all shot in black and white.
The Summer collections draws inspiration from iconic designers such as Prada, Tom Ford, Givenchy and Giorgio Armani, with hair aesthetics that borrow from hairdressing legends Kevin Murphy and Sam McKnight. The collection worked to merge everyday style with high fashion, utilising shadow, natural light and three-dimensional imagery to convey the more intricate details in the looks. Beach-ready wet looks, summer-style glamour curls and 80s inspired crops and short cuts give a diverse sense of summer through the collection.
View the full collection below.
Credits:
Collection Name: Summer
Hairdresser: Sandra Faiva
Salon: Revolution Hairdressing, Queensland, Australia
Photographer: Gregson Gastar
Make-Up: Maud Combrichon
Styling: Cruz
For more information visit revolutionaustralia.com.au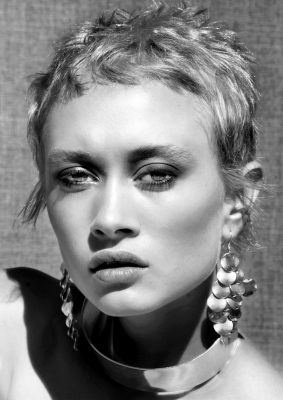 Click here for Styleicons|TV.