Take a much-needed trip back in time with Scott Sloan's Where Are We Now collection, a group of images aesthetically drawn from Allesandro Michele of Gucci and elevated with colour, embellishments, luxurious materials and a decadent overall feel.
The collection merges gentility with an edge, including feminine and sophisticated features as well. Clashing and complementary prints, frills, embroidery, velvet, retro accessories and styling, along with bold colours, make the collection a simultaneously vintage and relevant creation.
The title is taken from the 2013 song by David Bowie, which is a tribute to Berlin in the 1970s, when Bowie lived there, and a city and time that influenced Allesandro Michele's work at Gucci. As such, late seventies hair influences such flicked fringes, shaggy crops, nouveau mullets, pixie cuts, rock chick aesthetics and plenty of volume pervade the collection, creating a culture derived from Dschungel (1970's West Berlin answer to Studio 54).
The collection remains energetic, vivid and charming, taking old-school elements and using impressive techniques that never go out of style. See for yourself in the collection below.
Collection Credits:
Hair Styling: Scott Sloan
Colourist: Isobel Allan
Photographer: Jack Eames
Fashion Stylist: Clare Frith
Make-up Artist: Maddie Austin
For more information visit sloans.com.au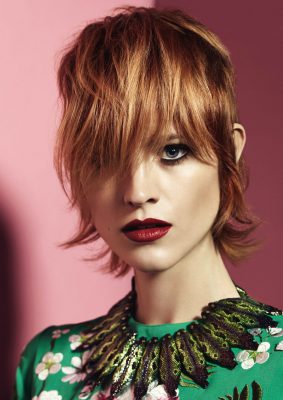 Click here for Styleicons|TV.